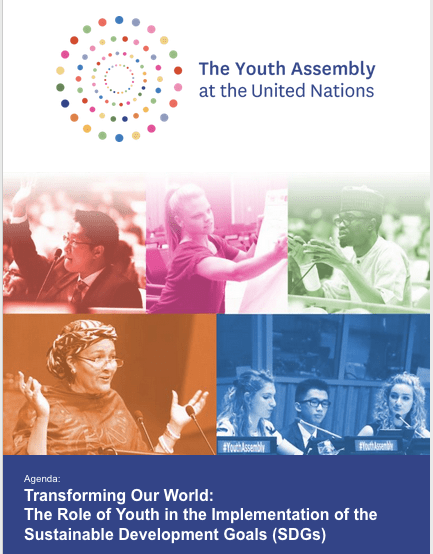 Application Deadline: November 30, 2015
The Youth Assembly at the United Nations (YA@UN) is a unique platform created to foster dialogue and generate partnerships between exceptional youth, UN high officials and staff, private sector, and civil society.  As the world embarks on a new set of development goals for the next 15 years, today's youth generation is placed in a crucial moment in history to make them into reality.
This coming February, at the 2016 Winter Youth Assembly at the United Nations, where young leaders and professionals, UN high officials and staff, civil society members, and the private sector gather to discuss and examine the important role of youth in the implementation of the Sustainable Development Goals.
The Youth Assembly at the United Nations is a project of Friendship Ambassadors Foundation, Inc. and sponsored by several Permanent Missions to the United Nations, with participation of International NGOs, U.N. Agencies, universities and civil society organizations throughout the world. The conference is not organized by the U.N. Secretariat. However, please note that FAF is formally associated with the United Nations Department of Public Information, with Consultative Status at UNESCO
Program: Winter YA 2016 – 2 Full Days at the United Nations Headquarters, NYC, USA; Resolution Project new Social Venture Awards through Competitions for University-level Delegates, more.
Agenda:  Transforming Our World: The Role of Youth in the Implementation of the SDGs.
Date: February 17-18, 2016
Platform: Plenary sessions, Workshops, Round table Discussions, Networking, New Social Venture Competitions, MDG Related Skills Building and Campaign Introductions
Leadership: Renowned speakers and expert workshop facilitators; U.N. Staff participation at sessions; Young leaders like yourself from around the world; Intergenerational Leadership Exchanges.
Eligibility:
Youth Leaders and those who wish to become leaders, ages 16-28+

Youth Leaders and those who wish to become leaders, ages 16-24+
Advanced Youth Leaders and Young Professionals engaged in the United Nations or MDG studies, internship, fellowships or early work stages, ages 18-28+
Applicants under 16 years old are NOT eligible and will not be accepted.
Delegation
If you are part of a group interested in attending the Youth Assembly, please apply together using the group application form. Note that you must have at least 15 members or more to apply as a group; if you have less than 15 members, please submit individual applications for each group member.
Why attend?
To learn about the United Nations
To become involved in the success of the UN's Post-2015 Agenda for Development
To hear great speakers and workshop leaders
To voice your opinions on the urgent issues of today and help make a permanent impact throughout the world
To meet other dedicated young people from all over the world
Logistics:
It is the responsibility of each participant to arrange their own travel bookings (such as flight, airport transportation, accommodation, meals, etc.).
Friendship Ambassadors Foundation offers optional Event Package & Opportunities at affordable rate. These accommodation packages include housing, meals, and special events during the conference.
Delegates can take advantages of the packages to ensure they get the most experience from the Youth Assembly event
Registrants are invited to utilize Fund Raising Guide, provided free to all interested parties. There, you will find suggestions that may help with self-funding efforts.
Key Dates
October 1, 2015 – YA Registration Opens
October 1 to November 30, 2015 – Early-bird special registration period
February 17-18, 2016 – Winter  Youth Assembly at the UN 2016
Fill Out the Application Form for the Winter  Youth Assembly at the UN 2016
For More Information:
Visit the Official Webpage of the 2016 Winter Youth Assembly at the United Nations