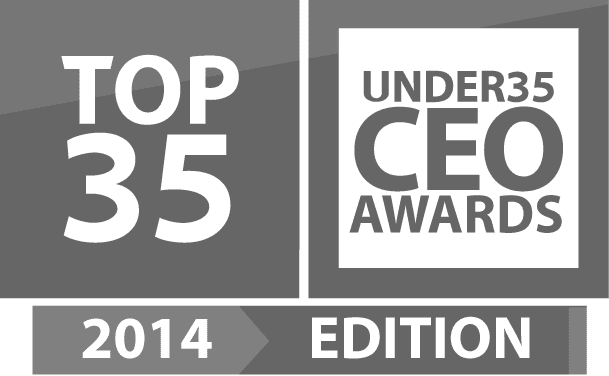 Nomination Deadline: December 20nd 2014.
Are you a young entrepreneur, and under35? Or do you know someone who is? Kindly nominate yourself or a young entrepreneur, from any part of Africa, who you think deserve to be on this year's Top35-Under35CEO list.
Top35-Under35CEO Awards aims to encourage and promote entrepreneurship amongst young Africans. Annually, the programme will highlight and provide recognition to 35 young entrepreneurs under the age of 35 who are making change happen through their entrepreneurial endeavours.
Who are the young entrepreneurs shaping the future of Africa? These are the people that the Top35-Under35CEO Awards seeks to identify and promote.

The Awards
Under35CEO Most Enterprising Students.
This is for students that own and run businesses while attending a high school, college or university. 10 student entrepreneurs will be recognized in this category.
Under35CEO Most Promising Young Entrepreneurs.
This category is for Young Entrepreneurs who has been in business for 2 years onward. 10 young entrepreneurs will also be recognized in this category.
Under35CEO Best New Startup Founders.
This is for new startups that has been in existence for 1-2years. 10 new startup founders will be recognized in this category.
Under35CEO Of The Year.
This category will recognize 5 superstar entrepreneurs whose company or projects have impacted life the most, over the past year.
Who can nominate?
Anybody can nominate. You are allowed to nominate yourself or others.
Nomination and judging process:
Nominations will be accepted online starting in November 5th 2014 until December 20nd 2014.
The winner will be determined by the Under35CEO Judges with a focus on impact, risk-ability, perseverance, unwavering passion, creativity, leadership skills, innovation and ability to come up with new idea(s) to solve Africa's or the world's complex problems.
When will the Top35-Under35CEO list be announced?
The Top35-Under35CEO list will be announced via email and published online on Under35ceo.co and its media sponsors site, on December 30th 2014.
Nominate Someone Now for the Top35 Under35 CEO Awards
For More Information:
Visit the Official Webpage of the Top 35 Under35 CEO Awards