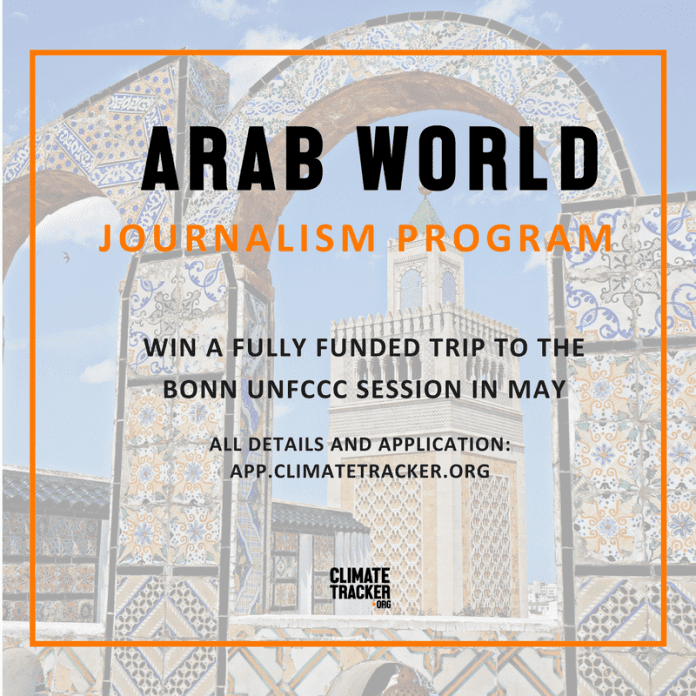 Application Deadline: April 14th 2017
Participate in Climate Trackers Arab World Journalism Program and win a fully funded fellowship to the Bonn climate negotiations in May or an Online fellowship!
The Arab region is one of the most affected by climate change, but little action is seen yet to stop the consequences. We believe that we need an informed public debate in the media to change this. That is why Climate Tracker is launching a journalism program only focused in the Arab region. Together we can raise awareness of the topic in media in the region and influence governments and policy makers!
Benefits:
Get a fully funded fellowship to the UN climate negotiations:
The best 2 writers will get a chance to attend the UNFCCC's intersessional in Bonn for one week (in May 2017).
UNFCCC will also award 3 online fellowships with specific and tailored training from Climate Tracker.
Application Procedure:
Between the 6th of March and the 14th of April you have to write two articles about two specific topics we will give you. Then you have to publish them in media in your country or region. It can be a newspaper, a magazine, an online news site, etc. Once an article is published, you have to submit the link to us through our app: http://app.climatetracker.org
Climate Tracker will revise the articles submitted through the app, give you feedback and tips, and select the best writers, who will win the different prizes mentioned.
The two topics are the following:
First publishing time (06-24 March): Analyse, critique, propose national policies to combat climate change for your own country or region
Second publishing time (27 March – 14 April): Climate finance and adaptation to climate change in your country or region
For More Information:
Visit the Official Webpage of the  Climate Trackers Arab World Journalism Program 2017