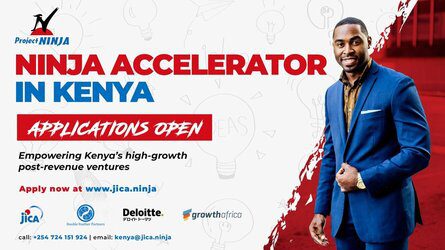 Application Deadline:  22 February 2021.    
Next Innovation with Japan (NINJA) is a startup support initiative by Japan International Cooperation Agency (JICA) launched in January 2020, to promote innovation and creation of new businesses in emerging countries. 
The NINJA Accelerator in Kenya is JICA's first acceleration program in Africa and aims at empowering Kenya's high-growth post-revenue ventures with strategic partnerships, mentorships, and access to investments for enhanced business growth and continued social development in the country
Ninja Accelerator Kenya
Delivering rapid acceleration to participating businesses with a short-term program designed to help grow revenue, general business maturity, and build attractiveness to investors and strategic partners.

Overall criteria
Pre-Series-A businesses with stronger founders and senior leadership team, capable of – and committed to – an accelerated scale-up process and willing to accept larger investments and strategic partners. Businesses should have an initial proof of product-market fit and sustained revenue for a minimum of 12 months
Business model and/or product/service should be one that has relevance in the context of the COVID-19 pandemic; the pandemic has been an opportunity for their business. The pandemic should not have had an adverse effect on their ability to quickly scale; and their team should be able to fully participate in all program activities.
Application criteria
We shall consider enterprises meeting the following criteria:
For profit, post revenue business with minimum of 12 months sustained revenue
Office and operations based in Kenya (in case there are interesting non-Kenyan startups in operation in Kenya worth looking in to)
Dedicated full-time founding team
Minimum of 2 year of existence
At a stage to raise series A or higher investment
Founding team committed to fully participate in all the program activities
The business model and/or product/service has relevance in the context of the COVID-19 pandemic
Sectors
The process is sector agnostic for Kenyan enterprises, however, for the 1st cohort, key is business model and/or product/service relevant in the context of the COVID-19 pandemic.
For More Information:
Visit the Official Webpage of the Next Innovation with Japan (NINJA) Accelerator Program 2021