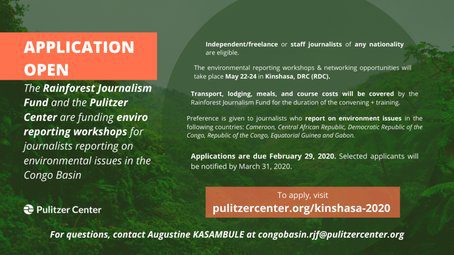 Application Deadline:February 29, 2020.
The Pulitzer Center is pleased to announce, as part of the Rainforest Journalism Fund, that we are now accepting applications from journalists working in the Congo Basin interested in participating in a three-day workshop & networking convening in Kinshasa, Democratic Republic of the Congo. 
Benefits

The Pulitzer Center will cover the costs of transportation, accommodations, meals and non-alcoholic beverages for the duration of the convening for selected applicants.
Requirements
The convening will be open to as many as 20 journalists selected from across the Congo Basin region, including Rainforest Journalism Fund grantees. Independent (freelance) and staff journalists of any nationality are welcome to apply.

Preference will be given to journalists who report on environment issues in the following countries: Cameroon, Central African Republic, Democratic Republic of the Congo, Congo-Brazzaville, Equatorial Guinea, and Gabon

The workshops will be tailored to the specific challenges or key issues for reporting on environment issues in the Congo Basin. The convening will run from May 22-24 in Kinshasa, Demoratic Republic of the Congo. Applicants must agree to arrive in Kinshasa on Thursday, May 21, and be available through Sunday, May 24 so that they may participate in the full Congo Basin Rainforest Journalism Fund convening. Applicants will be responsible for obtaining required travel visas.
Applications should be submitted using the 2020 Congo Basin Convening webform.
Deadline for submissions is February 29, 2020.
Journalists selected to attend the convening will be notified by March 31, 2020.
For More Information:
Visit the Official Webpage of the Pulitzer Center Rainforest Journalism Fund 2020