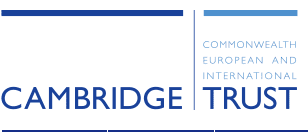 Application Deadline: December 2nd 2014
The Cambridge Trust is offering up to five scholarships to students from Egypt who plan to start a PhD at the University of Cambridge in the academic year 2015-16.
Value of scholarship
Each scholarship awarded will be of 3 year's duration.
The Trust will pay the Tuition fee (Arts or Science rate) for each of the 3 years of the scholarship.
You will be required to pay the College fee, the stipend and any other costs, from other sources available to you.
Eligibility
You are eligible for the Egypt Cambridge Scholarship if:
you are normally resident in Egypt;
you have an outstanding academic record, and a high level of English-language ability;
you apply to study for a PhD (in any subject) starting in the academic year 2015-16, and are offered admission.
How to apply
Research thoroughly the University website, including the web pages of your prospective Department, the pages for international students, and the pages for postgraduate applicants.
When you have prepared an outline thesis proposal, contact your prospective Department to find out if there is a suitable senior academic who can supervise your PhD studies.
The University will not offer admission if there is not a suitable supervisor for your research topic.
Apply, using the online application form,

Selection:
You will be informed of any scholarship offer betwen late March and May 2015.
For More Information:
Visit the Official Webpage of the University of Cambridge Scholarships for Egyptians