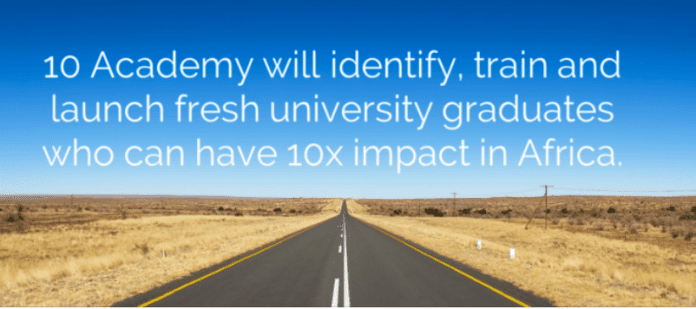 Application Deadline: March 31st 2017
10 Academy is an intensive post-graduate programme which will identify, train and launch extremely high potential young African university graduates into careers where they have the opportunity to have extraordinarily large (10x) impact.  The pilot edition will take place in partnership with Ashesi University in Ghana in 2017 with 30 students from across Africa.
10 Academy is a project of Infinite Potentials Consulting (IPC) and the pilot edition will take place in partnership with Ashesi University with 30 students from across Africa.
Pilot Programme
The first pilot for 10 Academy will take place in 2017, with the course taking place in Ghana from July-August 2017 with an inaugural class of 30 students from across Africa.
Applications will open in February 2017 and internships will begin in September 2017.
Scale and Sustainability
This model is specifically designed to be scalable across countries and to have rapid impact.  The vision for future years is to build on lessons learned from the first pilot programme and to expand the programme across the continent, utilizing the same identification, training and launching framework.
As the programme grows, students will be asked to contribute part of their paid internships to support 10 Academy, supporting financial sustainability.
Application Requirements:
Be 30 years or younger by June 30, 2017
Hold a bachelor or undergraduate university degree by June 30, 2017 (completed undergraduate in 2016 or 2017)
Be proficient in reading, writing, and speaking English
Be citizen or permanent resident of an African country
Have an energetic, positive attitude and a huge work ethic
Course
The programme is divided in two parts: The first is an intensive, residential course, hosted at the campus of Ashesi University in Ghana and the second part is a 6-month paid internship in the private sector.
During the course, you will undertake an intensive, residential two-month training with taught and project phases. The taught portion will cover modern skills including design thinking, big data analysis, making and rapid prototyping, entrepreneurship and management, software development and economics.  This phase will give you the opportunity to put the mix of your skills into practice, taking a major challenge in Africa and, in a small group, developing a potentially implementable solution within the 2 month period.
Internship
Each 10 Academy Fellow will take up a 6-month paid internship in the private sector.  As a 10 Academy Fellow, these companies will look to you to deliver new, transformative projects that will challenge you.
While internships are still being finalized and will continue to be announced, a selection of internship opportunities includes:
Working with a start-up firm as the in-country lead launching a new mobile money product, aiming to replicate the success of Kenya's mPesa across Africa.
Working with a growing firm as the project lead launching a pan-African university application and data-collection system.
Timeline:
For More Information:
Visit the Official Webpage of the 10 Academy Post-graduate Programme