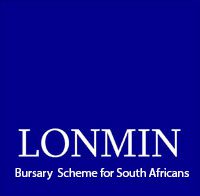 Application Deadline: August 31st 2013
As part of realising its vision of being an employer of choice and preparing the industry for its future resourcing needs, Lonmin offers comprehensive and industry renowned Bursaries to students who wish to pursue a career in mining or mining related disciplines such as Geology, Mining, Electrical / Mechanical / Chemical Engineering and Metallurgy.
The Lonmin Bursary Scheme has been established to assist potential students to attain qualifications in mining-related disciplines, thereby contributing to the general upliftment of skills and qualification levels in the mining sector. Our Bursary scheme is also one of the top financial bursary schemes currently available in the mining sector.
The fully paid Bursaries are offered to top performing students who wish to further their studies at accredited formal tertiary institutions.

Fields of Study:
Mining Engineering
Mechanical Engineering
Electrical Engineering
Chemical Engineering
Metallurgy
Instrumentation
Geology
The value of the bursary includes:
Full tuition fees
Books, meals and accommodation
Monthly allowance
Medical aid cover
8 weeks' vacation work annually
Requirements:
Grade 12 – Maths and Science (60%) or higher
University results – C average (60%) or higher
Relevant computer skills (MS Office)
Planning and organising skills
Adaptability
Ability to cope with pressure.
Bursary conditions:
The bursary is renewable annually, depending on academic performance
Post-qualification, the bursar will be required to work for Lonmin for a period equal to the study period funded.
Note that preference will be given to Employment Equity candidates.
Lonmin Bursary Rules and Conditions:
Bursaries may be awarded to suitable candidates who meet the criteria in terms of:
Completing the specific application form and submitting it with all required documentation
C average (60% or higher);
Grade 12 applicants should meet the entry requirements of the tertiary institutions.
In the allocation of Bursaries, preference will be given to HDSA candidates, Females and candidates from the Greater Lonmin Community.
Proven South African citizenship or permanent residence of the applicant.
The application being for a first tertiary qualification (post graduate applications and applications for specialization shall be considered and approved as exceptions, based on merit). Honours studies will be approved if the honours year forms part of the initial qualification i.e. Geology.
The bursary is renewable annually, depending on academic performance.
After qualifying, the bursar will be required to work for Lonmin for a period equal to the study period funded.
Rules of the Lonmin Bursary Scheme:
 Poor academic performance (fail two or more subjects in any one semester or academic year or one major subject that lead to the extension of the programme) will lead to the suspension of the Lonmin Bursary.
 Should the Bursar's poor academic performance continue the Bursary contract will be terminated.
Steps to apply for Lonmin Bursary
Step 1: Register
Click on the REGISTER button to complete online registration.
All mandatory fields needs to be completed.
Create a unique username and password you will use to log in.
Please note only one registration per email address will be accepted.
When you have correctly completed all the fields please click on the "Register" button at the bottom of the page.
Step 2: Log in
Please type your unique username and password and click on "User Login"
Step 3: Apply for a bursary
Click on the Apply for a bursary link.
An electronic application page will open, please complete all mandatory fields and attach all required documents.
After correctly completing all fields, please click on "submit application"
 Apply Now for the Lonmin Bursary Scheme for South Africans
Visit the Official Webpage of the Lonmin Bursary Scheme