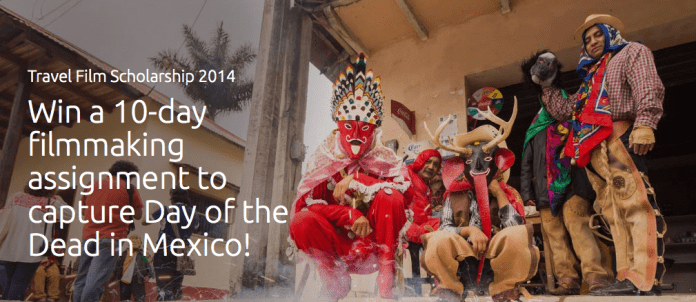 Application Deadline: September 17th 2014
Aspiring filmmakers, would be sent to  San Luis Potosi, Mexico to capture 'Dia de los Muertos' one of Mexico's most colourful and celebrated holidays. Don't be misled by the name, this 'spirited' festival is marked by ceremonies that both honor the dear departed while simultaneously rejoicing in everything living.
On assignment, you will be mentored by veteran filmmaker and director, Brian Rapsey, who will help you hone your craft to become a better storyteller. From your experiences, you will be tasked with producing 4x three-minute travel-themed videos that we will share with the world!
You need to be available to be in Mexico from October 30-November 10, 2014 to participate in the assignment.
Worth:
A 10-day trip to San Luis Potosi, Mexico
Round-trip airfare from your country of residence to Mexico
Rode Microphones gear: A Video Mic Pro with an XLR adaptor, Smart Lav, Lavalier Mic, plus accessories!
10-day professional mentorship from Brian Rapsey
Travel insurance for the duration of the trip from World Nomads
Ideal Candidates:
Comfortable in front of the camera, and sharing your emotions and opinions with the world
Engaging and charismatic, the kind of travel companion everyone would like to have (think Natalie Tran or Ian Wright)
Curious and inquisitive, interested in the lives of others, and always willing to interact with and learn from the locals
Be ready to embrace all opportunities
Judging Criteria:
The aim of the scholarship is the give the winner(s) a foot in the door to the travel film industry.
The ability to convey a strong narrative within a short time-frame
Originality
A visually engaging story
An entry that demonstrates strong filmmaking skills as well as engaging on-camera talent that shares their thoughts and emotions (you know… someone you would want to travel with, someone who makes you want to go there).
How to Apply:
To apply simply submit your travel themed video and tell us what winning this scholarship will mean to you.
1. Create your travel video
3-minutes maximum in English based around one of the following themes;
2. Upload your video
Go to YouTube or Vimeo to upload your video
3. Complete your application form
One entry per person/team (no longer than 3 minutes, again remember, entries that exceed this will not be considered).
For More Information:
Visit the Official Webpage of the WorldNomad Travel Scholarship