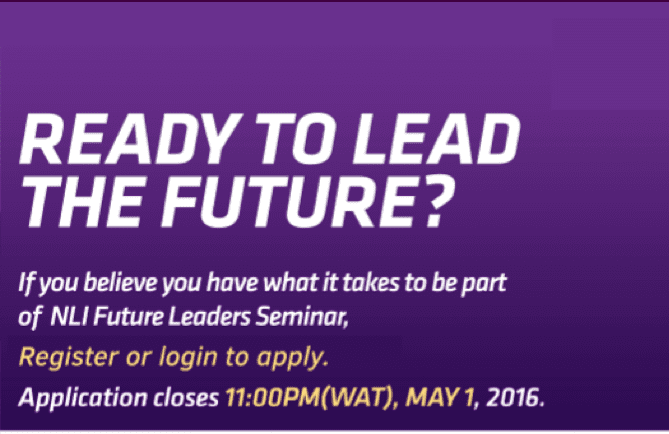 Application Deadline: May 1st 2016
Applications for the 2016 Nigeria Leadership Initiative's Future Leaders Seminar has commenced.
The Future Leaders Seminar is a program for emerging public and private sectors as well as civil society Nigerian leaders aged between 25 to 35 years who are based in Nigeria and in the Diaspora.
The Future Leaders Seminar had its inaugural class in 2007 and received support from First Bank of Nigeria. There are currently 327 NLI Associate Fellows in Nigeria and in the Diaspora.

The Future Leaders Seminar was designed to define the mission of the Nigeria Leadership Initiative (NLI) by creating a growing, global network of credible, accomplished community-spirited Nigerian leaders, committed to taking responsibility for driving positive change in Nigeria and Nigerian communities. Newly inducted Associate Fellows become part of a larger network in Nigeria, United Kingdom, United States, Asia and in other parts of the world.
Eligibility Criteria
Candidates must be 25-35 years old
They must have exceptional community spirit and outstanding leadership qualities in their fields
They must provide a written essay
They must provide two referees
Benefits:
It is a 4-day residential seminar capped by the launch of a class project by the seminar participants. At the end, the participants are inducted as Associate Fellows of NLI.
Application Procedure