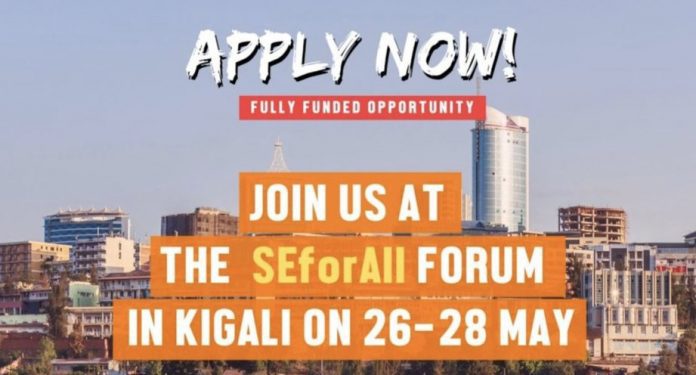 Application Deadline: midnight (GMT+3) on March 8th 2020
Together with Climate Tracker, Hivos will be training and sending six African journalists to cover the Sustainable Energy for All Forum in Rwanda, this May (26th-28th).
Hivos/Climate Tracker are looking for young journalists from Africa who want to make a big impact in their countries by publishing about the energy challenges and help shape one of the most important debates of our time.
The Sustainable Energy for All Forum will convene the best experts and decision makers to take progress on what is working in the establishing of the SDGs and to mobilize resources and new financial instruments. A vibrant meeting place to showcase action towards sustainable energy, with entrepreneurs, community leaders, city leaders, policy makers, financiers and investors.

For journalists, this will be a career-defining opportunity to meet and learn from some of the key industry movers and shakers. This will be a vibrant meeting place to showcase action towards renewable energy, with entrepreneurs, community leaders, city leaders, policy makers, financiers and investors in the energy space.
The 6 six fellows will receive a fully funded fellowship to travel to Kigali for the event, undergo exclusive training from leading energy experts and journalists, and an investigative story grant to cover energy issues back in their home country – all mentored by the Climate Tracker Team.
Responsibility
As a fellow, you will receive training on climate and journalism organized by Climate Tracker, participate in group interviews with high-level officials/experts, and network with amazing people from all over the world!
All expenses will be organized and covered for the fellows as part of the fellowship.
After the Forum, the six fellows will be part of an 8-week-long investigative reporting scholarship guided by Climate Tracker, to have a chance to refine your journalism skills and report on the pressing energy issues of your country.
What should I write about?
Energy access
clean energy cooking
the right to energy transition
sustainable energy for all
sustainable energy and climate change
imeline
March 8: Submit your article link to the Climate Tracker App by midnight (GMT+3) on March 8th 2020
March 15th: Shortlisted applicants will then be sent a new link to submit their investigative story pitches by March 15th
March 18: Our campaign final selections announced.
Climate Tracker and Hivos will revise the articles submitted through the platform, give you feedback and tips, and select the best writers based on the Climate Tracker rating system.
To see all information, tips and questions, you can check the competition page on the Climate Tracker website. But if you still have doubts, feel free to email [email protected]
Be sure to register today! As we're planning on sending training materials, webinar opportunities and information updates each week from now until March!
For More Information:
Visit the Official Webpage of the 2020 Hivos/Climate Tracker launch energy journalism competition Africa