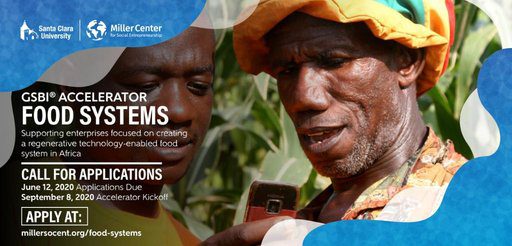 Application Deadline:June 12, 2020
2020 Miller Center's GSBI Online Accelerator Food Systems
Miller Center delivers world-class accelerator programs that connect global social enterprise leaders with Silicon Valley business executives to develop more sustainable, scalable market-based solutions to the problems of those living in poverty around the world.
Are you a tech-enabled enterprise that addresses nutrition and food security and/or regenerative environmental systems in the agri-food sphere? Enterprises can interact with any part of the agri-food value chain from seeds and inputs to processing, distribution and retail, including innovations along the full chain like financing and traceability.

Requirements
Deliver products or services that contribute to increasing nutrition and food security, and/or building regenerative environmental systems as part of the agri-food value chain, including: inputs, processing, storage, distribution, retail and anything in between
Have a technology component to their solution
Work in Africa
Lead an existing for-profit or hybrid social enterprise, in operation for one or more years.
Are willing to commit 3-6 hours per week over a 5-month period to complete program deliverables and work with mentors online.
Timeline:
Applications due June 12, 2020
Finalists notified week of July 24, 2020
GSBI Online accelerator program commences September 8, 2020
GSBI Online accelerator program completion February 2021 at Sankalp Africa Summit in Nairobi
For More Information:
Visit the Official Webpage of the 2020 Miller Center's GSBI Online Accelerator