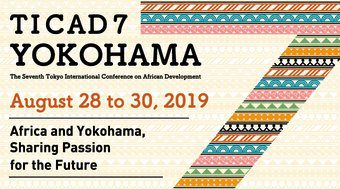 Application Deadline: Friday, May 31th, 2019, 11:59pm (JST)
Tokyo International Conference on African Development (TICAD) is the pioneer development forum on Africa led by the government of Japan since 1993 and co-hosted by United Nations, United Nations Development Programme (UNDP), World Bank and African Union Commission (AUC). The 7th summit will be held on 28th – 30th August, 2019 in Yokohama city, Japan.
At the occasion of TICAD 7, Japan International Cooperation Agency (JICA), United Nations Development Programme (UNDP) and Japan External Trade Organization (JETRO) will jointly prepare a pitching stage for eligible startups from African countries.
This event is a TICAD7's official side events, and it will be a unique opportunity for both startups offering innovative solutions to social challenges in Africa and Japanese investors/corporations to seek possible investment/partnership.

JICA and UNDP are pleased to inform that the two organizations will host selected startups from Africa to stage their business models during the side-event. A call for applications is now open from eligible startups with following conditions and details;
Pitching Date and Venue:
Friday, 30 August 2019 at Pacifico Yokohama, Yokohama-City, Japan

Eligibility:


Business Category:
TECH startup with innovative solution to achieve the Sustainable Development Goals (SDGs)
Year of Establishment:
Established in 2018 or earlier
Funding Stage:
Proof of the past funding – Has ever raised over USD 50,000 funding
Business Location:


HQs is based in African countries
Products/Services have been launched in African market

Other necessary points:


Passion/Will to acquire relation with Japanese investor(s) and/or partner(s) through participation to this pitch event in TICAD7
Available to stay in Tokyo/Yokohama from 28 August to 31 August.

Benefit:

The selected finalist(s) will be invited to TICAD7 for the pitching on the stage in front of potential investors/partners gathered from multiple countries.
Air tickets and accommodations for one personnel from each company will be covered by JICA/UNDP.

How to Apply:
Sign up with Google Form : http://bit.ly/TICAD7_pitchentryeng

After Application:
JICA and UNDP, will set up an evaluation committee to review all proposals received. Principles of fairness, integrity and gender equality will be applied. The criteria for the selection of winning proposals will focus on the eligibility check and the explanation of the problem and solution provided by the business, with key factors that are being considered:


Feasibility and scalability of the business model
Impact on achieving SDGs
Notification will be made only to the selected applicants for the next step (interview and document clarification) .
For More Information:
Visit the Official Webpage of the TICAD7 Innovation & New Partnership for SDGs – Africa Startups Pitch 2019