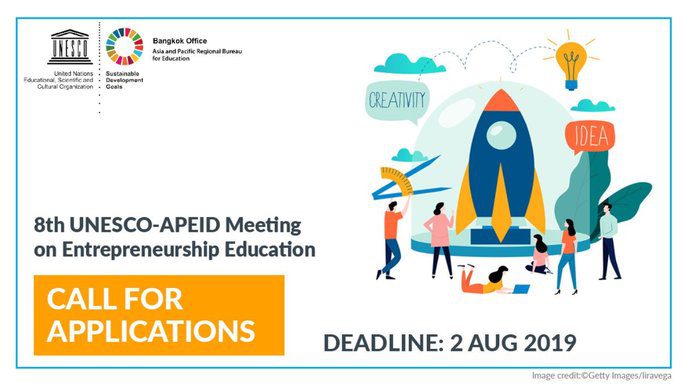 Application Deadline: 2 August 2019.
The OECD 2019 Employment Outlook pointed out that 14% of jobs in OECD countries can be automated, while another 32% will face substantial changes in how they are conducted. Young people will find it difficult to enter the labour market as entry-level positions have a higher risk of automation than jobs held by older workers.
While fears of robots taking over the world may be unfounded, the advent of the 4th Industrial Revolution has indeed blurred the boundaries between physical, digital and human interactions: the use of AI in the workplace is already a fact in many industries, raising much discussions and debates about the future of work and employment.
The 8th UNESCO-APEID Meeting on Entrepreneurship Education, Entrepreneurship Education for the 4th Industrial Revolution, to be held on 9-11 October 2019 in Hangzhou, China, will discuss how entrepreneurship education can equip students with relevant knowledge, skills and aptitudes in preparation for the 4th Industrial Revolution, and explore partnerships to facilitate the digital transformation of entrepreneurship education in the region.

In collaboration with the Chinese National Commission for UNESCO and Zhejiang University, supported by UNESCO Chair in Entrepreneurial Education at Zhejiang University and UNESCO EE-Net National Chapter in China, UNESCO Bangkok is convening the meeting to facilitate the digital transformation of entrepreneurship education in the region.
More specifically, the meeting aims to:
Identify potential impact of the 4th Industrial Revolution on education;
Discuss entrepreneurship education responses to meet the demands of the 4th Industrial Revolution;
Share good practices of entrepreneurship education in preparing youth for the 4th Industrial Revolution; and
Explore partnerships and collaborations among EE-Net members in meeting these demands.
Participants
About 80 international participants are expected to attend the meeting. They include representatives from government agencies, educational institutions, private sector, civil society and international organizations.
The Chinese hosts will cover local costs including accommodation (4 nights, checking in on 8 October 2019 and checking out on 12 October 2019), field trip and meals during the meeting.
Participants will have to cover their own travel costs to Hangzhou and other expenses.Since space is limited, those interested in attending the meeting must submit an application form (available on the meeting website) by Friday, 2 August 2019. Participants will be selected based on their potential contribution to the objectives of the 8th UNESCO-APEID meeting as well as their commitment to the common vision and long-term goals.
Those selected to participate in the meeting will be notified by Friday, 23 August 2019.For more information, contact:
•Ms. Lay-Cheng Tan, UNESCO Bangkok, email: [email protected]
•Professor Yue Kan, Zhejiang University, email: [email protected]
Application process:
Please refer to the concept note. Due to limited budget and space, we can only accommodate about 80 participants.
Please sumbit an application form to the EE-Net Secretariat at [email protected] by 2 August 2019.
For further information, please contact:
UNESCO EE-Net Secretariat
UNESCO Bangkok
920 Sukhumvit Road, Prakanong
Bangkok 10110, Thailand
Tel: +66 2 391 0577
Fax: +66 2 391 0866
Email: [email protected]
For More Information:
Visit the Official Webpage of the 8th UNESCO-APEID Meeting on Entrepreneurship Education