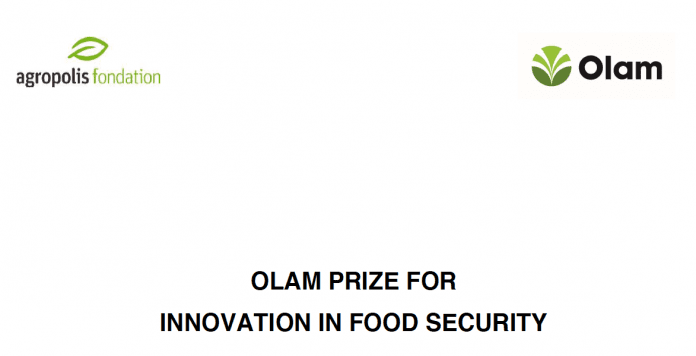 Application Deadline: 12 February 2017, 11:59 PM (CET, France)
This year Agropolis Foundation has launched the second edition of Olam Prize for Innovation in Food Security in partnership with global agri-business Olam International, which will be judged and awarded in conjunction with the fourth edition of the Agropolis Louis Malassis International Scientific Prize for Agriculture and Food.
Olam International is a leading agri-business operating across the value chain in 70 countries. From first procuring cashews in Nigeria 26 years ago, Olam has evolved to have a direct sourcing and processing presence in most major producing countries in the Northern and Southern hemispheres, and now holds leadership positions in many of its businesses including rice, cocoa, coffee and edible nuts.
The Olam Prize for Innovation in Food Security (hereafter referred to as 'the Prize') aims to recognise an outstanding innovation for its potential impact on the availability, affordability, accessibility and adequacy of food. The Prize will support the innovation's further development and contribution to global food security, in support of the UN's Sustainable Development Goal #2: End hunger, achieve food security and improved nutrition, and promote sustainable agriculture.
The Prize will be given to a research project for an outstanding innovation with a significant impact on food security focusing on any region, environment, crop or part of the supply chain.

Eligibility
Research projects in plant science, soil science, nutritional science, agricultural
sciences or other field of scientific research impacting food security will be
considered for the Prize.
Applicants will be considered from academic or research organisations, civil society
organisations and the private sector.
The research can be based anywhere in the world, and can be focussed on
innovation for food security in developed and/or developing countries.
The research project must be ongoing, and have enough evidence of achieved or
potential impact to fulfil the judging criteria
Research into the genetic modification of organisms is not eligible for the Prize.
Olam employees are not eligible for the Prize.
Timeframe
TIMELINE ACTION
10 October 2016 · 2017 Prize Launch
– Agropolis Louis Malassis International Scientific Prize for Agriculture and Food
– Olam Prize for Innovation in Food Security
25 January 2017, midnight
· Deadline for submission of Nomination Forms
· Submission in English; Submission through email
February 2017 · Eligibility check and distribution of dossiers to Jury Members
· Individual evaluation by Jury Members
2-3 March 2017 (Montpellier)
· Meeting of the International Jury in Montpellier
· Background/Reference check of winners
Winners will be held confidential at this stage and will be contacted by the Foundation
March/April 2017 · Interviews/videos/articles
· Travel arrangements (Awardees)
Between May and November 2017 Award Ceremony (specific date and venue to be announced)
For More Information:
Visit the Official Webpage of the 2017 Olam Prize for Innovation in Food Security