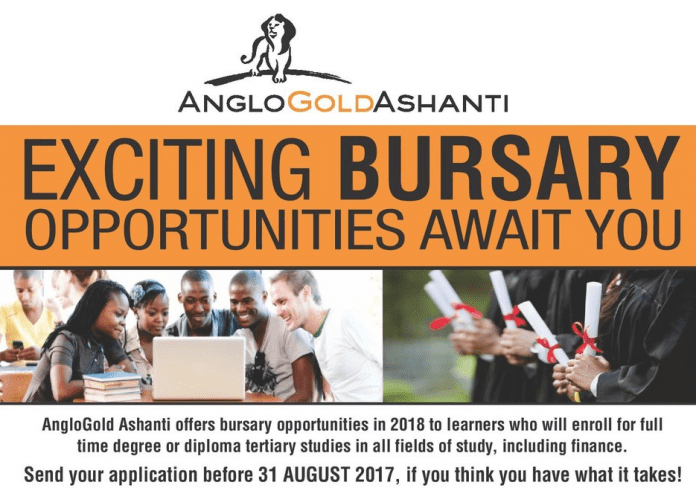 Application Deadline:31 August 2017
AngloGold Ashanti is a leading global gold producer operating in 11 countries and listed on five stock exchanges, including the NYSE.
AngloGold Ashanti offers bursary opportunities to learners who will enroll for full time degree or diploma tertiary studies in all fields of study, including finance for 2018. 
Requirements

Opportunities are open to South African citizens (below the age of 35 years). who are residents of Matlosana, Merafong and our major labour sending areas of the Eastern Cape and to the children of the company's employees.
Candidates must be in possession of a National Senior Certificate or latest Grade 12 results.
For applicants who are already at university, kindly submit your full academic record of study.
AngloGold Ashanti will select all applications in accordance with its commitments and guidelines as outlined in its Social and Labour Plans (SLP).
Candidates must be in possession of and submit certified copies of the following:
South African identity document
National Senior Certificate (or equivalent) or latest Grade 12 results; and/or university results if already in university.
Proof of school (letter from the school)
Proof of residence (e.g. water and lights account).
Please ensure that you complete the online information in full as this will serve as your CV.
For More Information:
Visit the Official Webpage of the AngloGold Ashanti Bursary Programme 2018