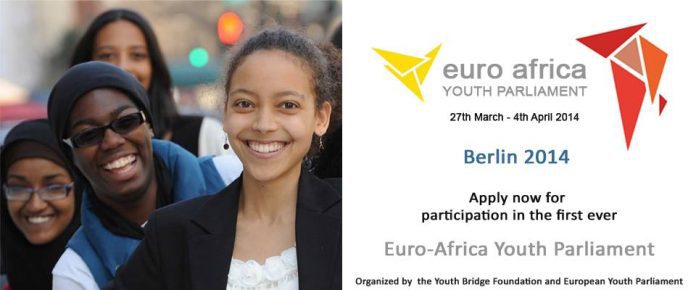 Application Deadline: 23rd January 2014
The Youth Bridge Foundation is pleased to announce the first ever Euro-Africa Youth Parliament comes off in Berlin, Germany from 27th March to 4th April 2014. This event is a collaboration between the Youth Bridge Foundation (Ghana) and the International office of the European Youth Parliament, sponsored by GIZ/German Government.
The First Euro-Africa Youth Parliament (EAYP) will be held in Berlin, Germany from 27th March to 4th April 2014. This event is organized by the International Office of the EYP and the Youth Bridge Foundation (organizers of the annual African Youth and Governance Conference), Accra, Ghana.
Over 100 young people from Africa and Europe will gather in the capital of Germany to discuss social, political and economic topics of global relevance and the future of Euro-African relations.

Discussions on the various conference topics will be led by committees that will be set up prior to the conference to conduct detailed research on their respective topics and present on them.
YBF is currently inviting interested and qualified Africans to apply for participation in the conference, either as committee chairs or committee members.
Please click on links below to apply online or fill applications form and e-mail to [email protected], indicating position applied for in the subject line.
Committee Chairs (or Download form)
Committee Members (Participants) (Download form)
Please note that applications received after the deadline will not be considered and only shortlisted applicants will be contacted.
For More Information:
Visit the Official Webpage of the Euro-Africa Youth Parliament