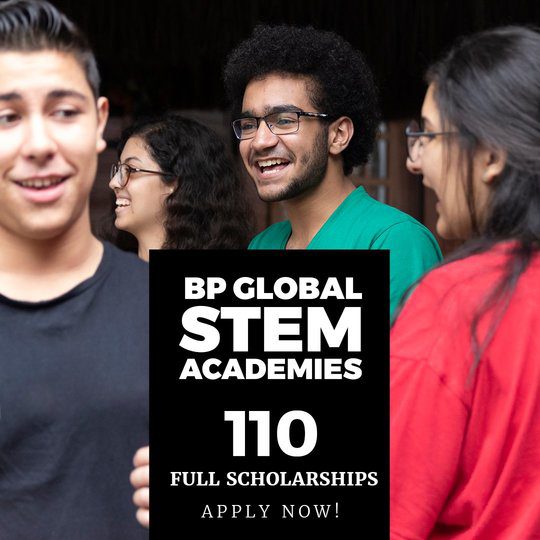 Application Deadline:Monday, 9 March 2020 at 11:59 PM EST

An extraordinary, full scholarship study abroad program for students and active global citizens who are energized to help solve some of today's biggest global challenges.

Apply now for this once in a lifetime opportunity.  BP and AFS have partnered to host the BP Global STEM Academies, four-week programs in Brazil, Egypt, India, and the USA focusing on science, technology, engineering, and math (STEM) and global competence education. Scholarship winners will enrich their STEM knowledge and skills through interactive, hands-on curriculum, while developing critical global competencies, including problem solving, analytical skills, intercultural understanding, and the ability to build bridges across cultures.
The program culminates with team projects and presentations that offer potential solutions to real world challenges, with an emphasis on climate change and the energy transition. 
Requirements:
For the 2020 BP Global STEM Academies, AFS is identifying and selecting scholarship recipients from Brazil, China, Egypt, Germany, Ghana, India, Mexico, South Africa and the USA. If you are from one of the above countries and meet the eligibility criteria below, click on the "Apply now" button to start your application!
Must be born between December 1, 2002 and June 1, 2005
The ability to participate fully in a classroom and program conducted entirely in English
Demonstrated interest in STEM, study abroad and interacting with different cultures
Willingness to attend all four Academy destinations – Brazil, Egypt, India or the USA
Ability and willingness to travel unaccompanied abroad
Interested in exploring new cultures
Benefits
Your scholarship covers the AFS program fee, domestic and international airfares, your visa (if necessary), government fees to obtain a passport (if needed), and all program costs, including meals and housing.
For More Information:

Visit the Official Webpage of the BP Global STEM Academies Scholarships 2020