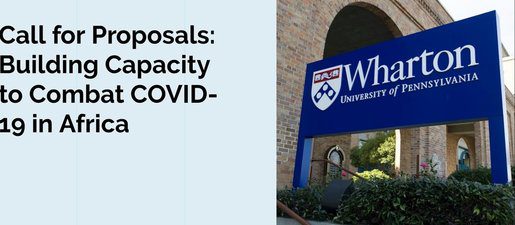 Application Deadline: September 15th 2020
The Zicklin Center for Business Ethics Research at the Wharton School, University of Pennsylvania, has a new initiative supporting innovators and young entrepreneurs who are developing solutions to combat COVID-19 in Africa.
The Zicklin Center has issued a call for proposals, open to students and young professionals (ages 18 to 35 years old) from around the world interested in offering innovative ideas for an effective private and public sector response to the pandemic throughout Africa.
Wharton School is an ecosystem partner of the Entrepreneurship World Cup, contributing with knowledge used to help inform and educate participants as well as outreach efforts to foster the participation of its alumni and leading entrepreneurship stakeholders around the world.
The program intends to:
Utilize different modalities to support capacity development and access to knowledge.
Facilitate the creation of multidisciplinary teams by connecting global talent with field experts, policymakers, and key players from the entrepreneurship ecosystem.
Provide visibility to innovative solutions at the Zicklin Center at Wharton thus providing additional opportunities to attract strategic partners and investors.
Those interested must submit a proposal by September 15, 2020.
Following submission, proposals will be reviewed based on their significance, originality, feasibility, and clarity. Active support and mentorship will be provided, along with feedback and networking opportunities.
For More Information:
Visit the Official Webpage of the Zicklin Center Building Capacity to Combat COVID-19 in Africa