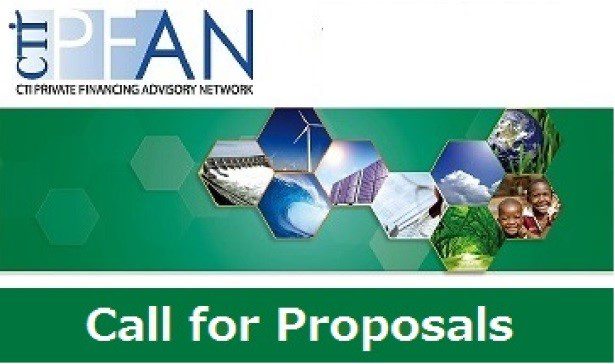 Application Deadline: Friday 6th January 2017.
The PFAN WAFCEF-3 Call for Proposals seeks to solicit proposals from Project developers in West African countries as part of a two stage process to selecting finalist projects for the 3rd Edition of the West African Forum for Clean Energy Financing (WAFCEF-3) Business Plan Competition.
The WAFCEF-3 Business plan competition seeks to nurture entrepreneurs, start-up and existing companies, project teams and consortia with environmentally beneficial business proposals with the aim of linking them with investment and finance and seeing through the implementation of these projects.
The purpose of the Forum is to identify and nurture entrepreneurs, start-up companies and existing companies with promising clean energy projects by linking them with investors and financiers. West African businesses selected through the Business Plan Competition will receive free mentoring to help them polish their business plans, develop convincing investment pitches, and formulate a commercially, financially, socially and environmentally viable growth strategy that in turn will significantly enhance the possibility of obtaining financing.
Eligibility
The call is open to projects located in any West African country.
Focus of Projects / Acceptable Proposals
The business / project proposal must promote or deploy clean energy technologies, products or services including but not limited to:
 Biomass,
 Energy Products from Forestry,
 Biogas,
 Clean Transport,
 Bio-fuels,
 Tidal/Ocean,
 Solar,
 Energy Storage & Conservation,
 Wind,
 Energy Efficiency and Demand Reduction,
 Waste to Energy,
 Emissions Reduction, Hydropower
Proposals eligible for the Competition, may include, but are not limited to:
Greenfield Projects;
New Business Ventures & Start-Ups. Pilot Projects will only be eligible to the extent that they include a credible plan for growth and / or replication;
Brownfield projects – scale-up, growth, expansion, replication or conversion of existing businesses or projects;
Downstream Projects: deployment of an existing clean technology;
Upstream technology development: development and commercialization of a new clean technology;
Merger, acquisition or joint venture which will add value to an existing / current
Clean energy/technology business.
Investment Amount
Business opportunities that require total (initial) capital in excess of US$1million (or any currency equivalent) will be considered. In the case of energy access and rural electrification projects the investment sought may be less providing that the proposal demonstrates strong development impacts and social entrepreneurship.
Proposals seeking primarily grant funding are not eligible and will not be considered, though the investment proposal may include elements of grant, donor and / or subsidized funding to enhance the overall investment proposition.
Submission of Application
All submissions are to be made in electronic format. Consideration should be given to the size of individual files to ensure ease of transmission. To increase information security and authenticity, files should, where possible, be submitted in PDF format and financial models as an annex to the Project Proposal document in Excel format. The Application consists of:
       The Project Proposal (as a PDF file, the cash flows provided as an Excel sheet)
       The completed Project Data Sheet (as an Excel sheet)
The submission of the Application to Participate together with the Project Proposal and Excel Project Data Sheet must be made by Friday 6th January 2017.
Related Documents:
Project Data Sheet template (English)
Project Data Sheet template (French)
Guidelines for Preparation of a Initial Project Proposal (English)
Guidelines for Preparation of a Initial Project Proposal (French)
For More Information:
Visit the Official Webpage of the Call for Proposals: PFAN West Africa Forum for Clean Energy Financing