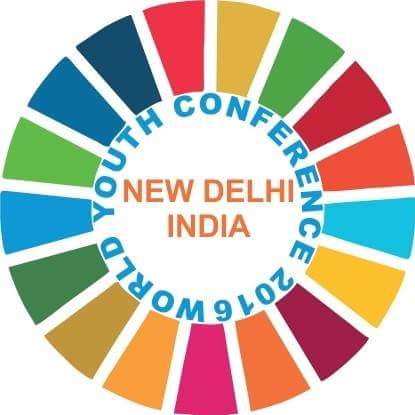 Application Deadline: Friday, 30th September 2016

.
Are you passionate about development? Do you want to make a lasting and meaningful change? Let's get together to achieve SDGs of United Nations by 2030!
The World Youth Conference 2016, "Youth for Sustainable Development" will take place from

12 to 14 November, 2016

in New Delhi, India.
The Conference has a unique aim of producing a joint outcome document between states and youth, called 'New Delhi Action Plan'. The Conference is expected to bring together 1500 participants, half of them young people, and 150 of them will come from marginalised backgrounds, making the conference one of the most well represented youth events at the global level. The pre-conference process is led by an independent international youth task force which represents major global youth organisations and regional platforms ensuring regional and gender balance.
How to participate:
There are two categories of youth delegates:
1. National Youth Delegates (3 per country/600 people).
They are to be selected by governments in cooperation with National Youth Councils where they exist or by committees of young people when a National Youth Council doesn't exist. If you are a National Youth Council or a young person active nationally you should first contact the Ministry responsible for Youth and/or the National Youth Council to apply nationally.
2. International Youth Delegates (350 people).
Direct applications can be done on the website and are focused on a few categories:
1. Facilitators (42 people)– to support the running of the conference
2. Youth from international youth-led organisations (78 people) – to represent international networks/organisations and regional youth platforms active at the international level.
3. Youth from marginalised youth (150 people) – to make sure that young people's voices who are often ignored are given space.
4. Youth leaders/experts (60 people) – to ensure that youth activists, trade unions, faith and political parties, academic and development negotiations are involved.
5. Young bloggers/journalists (20 people) to make sure that the outreach of the conference is high and all young people with different languages can follow the conference.

Application Procedure
All applications to become an international youth delegate should be made via offline (before 31st July) and the online application (after 31st July). In case the applicant is not able to fill it themselves, a third party may assist them in filling out the application on behalf of them (but not without the knowledge of the applicant).
Eligibility Requirements
The international youth delegates will be selected according to these criteria:
• Between 18 and 30
• Well versed in current national/international youth policies and/or development debates
• Willing and motivated to prepare the WYC together with other young people through involving in/conducting consultations to take other young people's views to the WYC
• Willing to ensure follow-up to the WYC through dissemination of outcomes and taking part in the implementation of the outcome document
• Able to work in English
• Supported by an organisation/community that can endorse you as a delegate (whenever possible)
Please not that gender and regional balance will be taken into account in the selection.
The role of youth delegates:
• To represent their constituencies during the WYC 2016 and actively take part in the conference programme
• To prepare for the WYC 2016 together with their constituencies through the organisation of consultations and other pre-conference programmes
• To actively follow-up the WYC2016
The deadline for applications is Friday, 30th September 2016.
All costs of the participants is included in the registration fee of 150 USD (100 USD for Least Developed Countries) except travel costs to New Delhi.
Apply offline at [email protected]
Apply online at http://wyc2016.com/registration/
For More Information:
Visit the Official Webpage of the Call for Youth Delegates at the World Youth Conference 2016