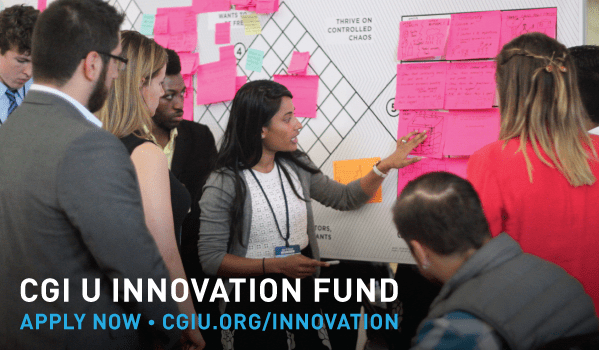 Application Deadline: June 27th 2016
Launched at CGI University (CGI U) 2016, the CGI U Innovation Fund will source, support, and feature the most effective, high-impact student innovators and entrepreneurs from around the world. Working within the CGI U Commitment to Action model, Innovation Fund grants will provide students with critical seed funding to help launch and scale their early-stage projects.
The CGI U Innovation Fund will source, support, and feature the most effective, high-impact college student entrepreneurs and innovators from around the world by providing critical, early-stage seed funding for their Commitments to Action.
Projects must exhibit the three basic standards of any commitment: new, specific, and measurable. CGI U will also look for projects that demonstrate innovation, scalability, and a strong capacity for partnership. CGI U will not fund: dissertations, internships, staff salaries, personal stipends, or research without a tangible, action-focused component.

Requirements:
All applicants must be above the age of 18 and actively enrolled in an institution of higher education to be considered for funding.
Application Phases:
There is a two-phase online application process for prospective Innovation Fund grantees.
Phase one is the pre-application, which invites interested and eligible students to provide a personal statement, outline their Commitment to Action, and demonstrate a tangible need for early-stage seed funding.
The pre-application is followed by phase two, an invitation-only full application, which will select students to provide greater detail on their Commitments to Action, project budgets, and specific spending projections.
Benefits
The awarded funds will range from approximately $2,000 to $10,000.
Accepted students receiving funding through the Innovation Fund will also be invited to attend the CGI U 2017 meeting.
Apply Now for the Clinton Global Initiative University (CGI U) 2016 Innovation Fund
For More Information:
Visit the Official Webpage of the Clinton Global Initiative University (CGI U) 2016 Innovation Fund