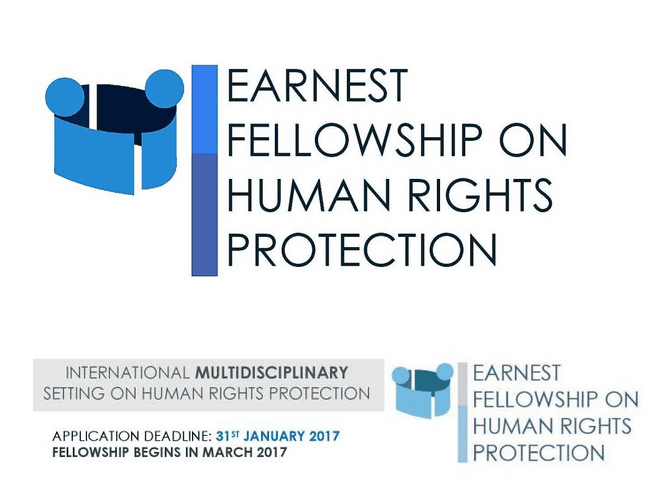 Application Deadline: 31st January 2017
The International Law division of the Common Ground Centre, is pleased to invite applicants to the pioneer phase of it's International Law educational program; The Earnest Fellowship on Human Rights Protection.
The Earnest Fellowship on Human Rights Protection (EFHR) program affords participants a virtual think-tank for advanced analysis and studies of vital aspects of International Human Rights Law and protection practice, through a multidisciplinary and integrated approach, which enables participants a practical and real world approach to tackling some of the world's most pressing Human Rights problems.
The 3-month EFHR program comprises a series of capacity building webinars and e-fellowship program modules, delivered by guest professionals and alumni fellows, addressing current global challenges, which fall within the broad spectrum of International Human Rights Law and protection.
FELLOWSHIP DESCRIPTION
This fellowship program aims to offer an interactive and structured learning experience in an International multidisciplinary setting, which would stimulate academic discourse on contemporary International human rights protection issues, and develop the competency of young professionals to effectively address these issues.
The fellowship sessions would utilize a variety of delivery methodologies, such as top-down lectures, participant-led sessions, and simulations to create innovative and viable solutions to contemporary Human Rights challenges.
FELLOWSHIP DUTIES
Fellows will be expected to examine a select ongoing global happening with a direct implication for International Human Rights protection, participate actively in ongoing discussions, and constructively engage with other participants in insightful and thought provoking exchanges revolving around International Human Rights protection and Law are encouraged to apply;
Fellows must be willing to share their knowledge, experience and perspectives on International Human Rights issues and laws and collaborate on innovate and practical initiatives, with the potential to serve as viable solutions to Human Rights protection challenges;
Fellows are expected to address contemporary human rights concerns, analyze State policies which impact human right protection mechanisms, and carry out ground breaking legal research on International Human Rights issues of importance, and based on the findings obtained, are is expected to publish condensed, practical and innovative materials which address their findings and provide recommendations;
Anyone who applies must be willing to commit the resources needed to evaluate course content, contribute in discussion forums, and constructively engage with other participants in insightful exchanges around ideas presented in course materials.
ELIGIBILITY
The Common Ground Centre aims to admit highly motivated individuals who possess:
Strong communication and interpersonal skills.
Proficiency in spoken and written English is essential.
Law professionals and students, academics and scholars within the social sciences and Arts, educators, Human Rights field practitioners (i.e. activists and organizers), members of civil society, policy professionals, and journalists to apply.
HOW TO APPLY
Prospective applicants should submit their applications for the fellowship online at the link: https://goo.gl/iHOyul
ANTICIPATED PARTICIPANT OUTCOMES
Stimulate cutting edge thinking and research on contemporary Human Rights issues which would facilitate an in-depth understanding of International Human Rights Law focus areas, as they impact on global security trends;
Improve the capacity of participants to analyze and predict how International Law Impacts World security issues, and drive such impact through their work;
Remarkable enhancement of the professional competencies and skill set of participants to work as Law and Security policy analysts and practitioners;
Produce a high quality and well-researched publication of at least 5 pages critically addressing a regional, local or international Human Right or Security Issue of choice.
CERTIFICATION
A certificate of completion in soft copy will be awarded to participants who fulfill all requirements for satisfactory completion of the Earnest Fellowship on Human Rights Protection program and recommendations issued upon request.
The Application deadline is 31st January 2017
For more information please contact Mr. Maduka Hillary Obinna on [email protected] or [email protected]
For More Information:
Visit the Official Webpage of the Earnest Fellowship on Human Rights Protection (EFHR) program