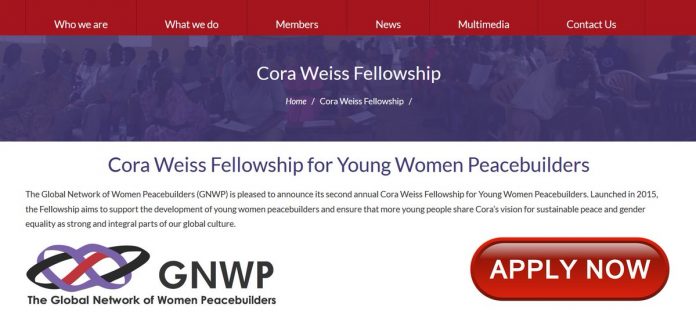 Application Deadline: November 1st 2016
The Global Network of Women Peacebuilders (GNWP) is pleased to announce its second annual Cora Weiss Fellowship for Young Women Peacebuilders. Launched in 2015, the Fellowship aims to support the development of young women peacebuilders and ensure that more young people share Cora's vision for sustainable peace and gender equality as strong and integral parts of our global culture.
Eligibility requirements
To be eligible for the Cora Weiss Fellowship, applicants must meet the following criteria:
1. At least one year experience of volunteering or employment in a women's rights/human rights/peace advocacy organization;

2. One year experience in policy advocacy on women's rights, human rights, peace and other social justice issues, including understanding of the UN Security Council Resolution 1325 on Women, Peace and Security, and related laws and policies;
3. A Bachelor's degree in international relations, women/gender studies or the social sciences; and
4. Has lived or worked in a developing country for at least one year.
5. Since the fellowship will take place in New York where the international community is mainly congregated, proficiency in the English language is a must.
Selection criteria
Applicants will be evaluated based on the following criteria:
1. Ability to use the skills and networking opportunities gained from this Fellowship in a similar undertaking, such as working with a civil society organization that advocates for women, peace and security, for at least 2 years after completion of the Fellowship;
2. Ability to communicate effectively on women, peace and security issues; and
3. Ability and willingness to travel to conflict-affected countries.
Selection:
The successful applicant will have the opportunity to work with GNWP for one year on its global advocacy in the UN to promote the implementation of the UN Security Council Resolutions (UNSCR) 1325 and 1820 on Women, Peace and Security, and related laws and policies.
In addition, the applicant will also have the opportunity to participate in GNWP's national and local initiatives such as the Localization of UNSCR 1325 and 1820, and Girl Ambassadors for Peace.
The Fellowship year will commence in May 2017 and end in May 2018.
Benefits
It will cover roundtrip airfare from the country of origin to New York, room and board, health insurance, local transportation, and other personal expenses of the fellow.
Checklist of required documents
1. Completed application form in English. Please note that while GNWP has released this advertisement in different languages, submission of a completed application in English is essential. The application form is available here.
2. An essay of no more than 3 pages that explains why you are applying for the Cora Weiss Fellowship
3. Two letters of reference. Reference letters should include how long the writer has known the applicant and in what capacity, comments on the applicant's potential to make an impact in the field of women, peace and security, and any relevant prior experience.
Applications may be sent to: [email protected]. All required application materials should be complete and submitted together in one e-mail. Documents sent separately will not be reviewed and application will be considered incomplete
For More Information:
Visit the Official Webpage of the Cora Weiss Fellowship for Young Women Peacebuilders.