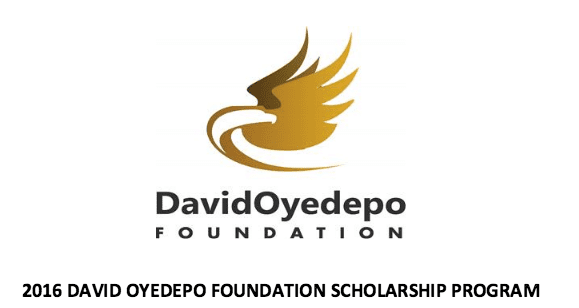 Application Deadline: July 15th 2018
The David Oyedepo Foundation scholarship program is our major platform for promoting our vision and goals. The scholarship program awards scholarships to qualified individuals who are indigenes and residents of African countries, and have been offered admission to specific universities in Nigeria.
The DOF scholars program grants individuals the opportunity to acquire a first degree at top schools in the African continent. It grants individuals the opportunity to build up the leadership potentials that are so evidently lacking in the leaders of our today's society, through the yearly programs and community development initiatives.
Application Categories

This category is for applicants who have just been granted admission into an institution.
This category is for applicants who are already admitted into an institution and have academic record.
ELIGIBILITY REQUIREMENTS
The David Oyedepo Foundation Scholarship program is open to Young Africans who meet the following criteria:
Are citizens and permanent residents of any African Nation
Are between the ages of 18 and 25 at the time of application submission
Are eligible to receive a Nigerian student visa
Are proficient in reading, writing and speaking English
Have a record of exceptional performance at the secondary school level which is benchmarked by:
1. At least 20 points above JAMB cut off points (for Nigerians only)
2. 80% recorded average or 4.0GPA/5.0 in Secondary/High School Transcript
3. Already have begun admission applications to Covenant or Landmark University
Benefits:
FINANCIAL PROVISIONS OF THE SCHOLARSHIP
Full Academic fees for a maximum of 5 years. (In accordance to the University stipulated time for duration of chosen course).
The scholarship does not cover;
Travel allowances
Feeding allowances
Medical/Health Insurance or allowance
Any other fees outside University generated Academic fees for a course at any level.
SELECTION PROCESS AND CRITERIA
The David Oyedepo Foundation Scholarship Program selection process is a need dependent, merit based open competition. After the deadline, all eligible applications will be reviewed by a selection panel. Following this review, chosen finalists will be interviewed by the David Oyedepo Foundation team, through an online video conferencing platform. If advanced to the final round, applicant must provide;
Proof of application to Covenant or Landmark University
Proof of citizenship
All original copies of documents uploaded during application.
Selection panels will use the following criteria to evaluate applications (not in order of importance):
A proven record of superior scholastic ability
Displayed financial need
Outstanding character
A proven record of leadership and community involvement
A commitment to influence home community with skills learned
For More Information:
Visit the Official Webpage of the David Oyedepo Foundation scholarship program 2018