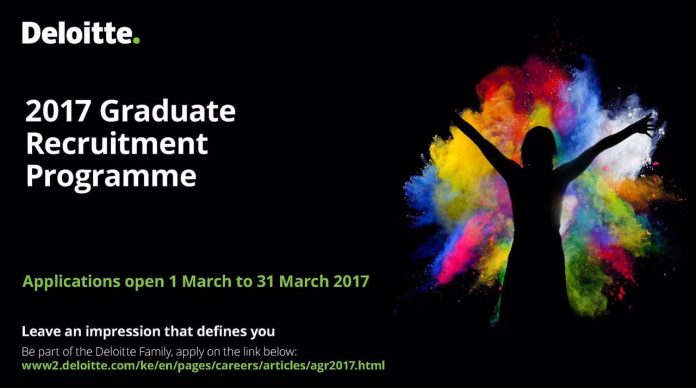 Application Deadline: March 31st 2017
At Deloitte it's the mind-set that shapes the role. As part of the graduate/analysts community we offer the chance to start a career with a firm of problem solvers – the best minds in the industry – with guidance from inspirational and supportive senior managers and every opportunity to grow and progress.
From the start you will be hired as a member of staff – often described as the firm's greatest assets – Deloitte's people are deeply respected for their individuality. Every year the firm invests more in learning and development, offers a competitive salary and comprehensive training programme.
Deloitte is a business that doesn't just recognise the need for diversity, but fully embraces it. Agile working is a way of life. Ownership is highly rewarded and leadership is visible at every level to guide you every step of the way.
Academic Requirements:
All applicants please note
Professional Services (Audit, Financial Advisory, Risk Advisory, Tax Consulting)
KCSE
GCSEs
 Expected degree result

Overall, grade B+

Mathematics, grade B+
English Language, grade B+

Overall, grade A

Mathematics, grade A
English Language, grade A

Second Class Honours (Upper Division) or its equivalent
Degree
Bachelor's degree from a local or international university in any discipline
Graduated in current recruitment year (2017) or graduated in the preceding year (2016).
Qualification or pursuing qualification in CPA or ACCA will be an added advantage.
How to Apply:
Step 1: Apply
The application form is simple to complete. All you'll need to share are:
a few personal details
your academic qualifications (to make sure you meet our initial criteria)
So you'll need all this to hand before you begin, including your grades and awarding bodies
Step 2: What happens after you apply?
From clicking 'submit form' to getting that job offer we try to make it as easy and as quick as possible to start your career with us.
Application form review
Once you've submitted your form online, we'll be in contact to let you know if we have received your application.
Online aptitude tests
Next comes our online numeracy and critical reasoning tests.
Group assessment

At this stage, you will get to interact with your fellow applicants as you go through a series of behavioural assessments.
Manager interview

Successful candidates will be invited to a competency interview at the office.
Partner interview 

This is where you get to meet senior members of staff and show them what you're made of. You'll also get to meet colleagues and get a feel for the place you'll work.
For More Information:
Visit the Official Webpage of the Deloitte Graduate Recruitment Programme 2017