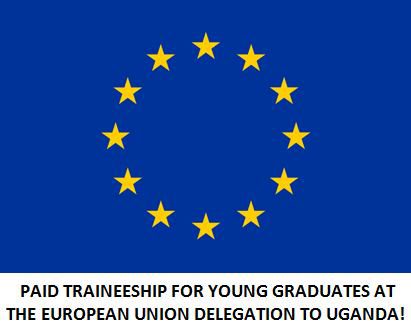 Application Deadline: 15 June 2019
Are you a young graduate interested in international relations? Are you curious to learn more about work in a diplomatic mission and how an EU Delegation represents EU interests and values in Uganda?
Main tasks:
Research and analyse information;
Contribute to drafting of analytical reports on policies and current affairs;
Support in the preparations of programmes for events such as international day celebrations;
Participate in external meetings and events and report about them;
Support the section in the preparation of visits, missions and meetings.
Assist the Press Officer in the preparation of daily press reviews and visibility actions.
Mandatory requirements:

Very good command of spoken and written English;
Highly motivated, willing to learn and able to work both in a multi-cultural team and to carry out tasks independently;
Able to demonstrate strong sense of initiative, research, writing and analysis skills;
Skilled in using Microsoft office tools (Word, Excel, PowerPoint).
Proven interest for EU affairs and international relations.
Additional requirements that would be an asset:
Completed or ongoing master studies in international relations or related field;
Experience in Ugandan parliamentary affairs;
Knowledge of Uganda's institutional system and political landscape;
Experience in analysis of economic and sociological data;
Experience in working in a team and in coordinating inputs from various colleagues;
Proven networking skills.
Specific merits in terms of academic performance and in terms of language skills are considered a great advantage.
Benefits:
A traineeship of 6 months, within the Political, Press & Information Section of the EU Delegation to Uganda, starting in September 2019.
The trainee will be fully involved in the activities of the Delegation, with direct exposure to the EU activities in Uganda, and will be provided with a unique occasion to understand the work of an EU Delegation in a third country.
How to apply
Please send the following documents to the e-mail address: [email protected]
Please mention in the subject of your e-mail: Funded Traineeship – PPI Section.
For More Information:
Visit the Official Webpage of the European Union Traineeship 2019