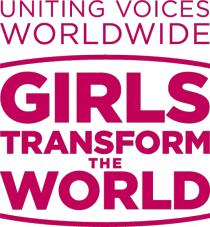 Application Deadline: June 26 2013
World Pulse invites you to join us in speaking out for the rights of girls as we showcase the voices and solutions of grassroots women around the world. We believe that when girls and their champions are heard, they will transform the world.
Applicants around the world are invited to join Girls Transform the World Campaign organized by World Pulse coommunity members.
Why Participate?
Your voice will be heard – You will connect – Your voice will be elevated
Make Like-Minded Connections: Share your story and connect with others in similar situations.
Learn and Be Inspired: Read others' stories, learn about other experiences, and gain inspiration.
Explore Solutions: Find out how others climbed over, dug under, or broke through their barriers, and hear their visions for the future.
Transform: Watch your story find its way to places you never thought imaginable. Watch it make impact.
Tell us your own story and perspective on girls—either personally experienced or witnessed in your community—and outline your vision for change.
Write an Inspirational Message!
Participate in our Inspire to Aspire Facebook challenge
WP have posted a picture on the world pulse Facebook page, and it's YOUR job to give it a powerful message that inspires girls and women in every community and country to aspire to obtaining the education of their dreams.
In order to participate in the challenge, you need to be registered on Facebook. Once you are registered, please follow the instructions below:
3. Leave a comment below the photo with a short inspirational message that you want to transmit to the world on breaking barriers to girls' education before
June 18th
Facebookpage on June 20th to see if your message has been selected as the winner!The winning message will be featured on this photo and disseminated via our social media streams to thousands of followers! .
Through Likes, Shares, and Comments, these photos and messages will reach thousands of people throughout the world, inspiring them to break down the barriers to girls' education in their lives and their communities. This is your chance; let your voice be heard!
Share Your Story!
1
Join the World Pulse community
If you're not already a member, join our global online network of grassroots women leaders connecting and speaking out from over 190 countries. Through your World Pulse profile you can create a global calling card for your voice and vision!

We are committed to hearing from girls around the world; however, due to safety and privacy reasons, if you are 17 years of age or younger please speak with your legal guardian before joining World Pulse. Refer to our Terms of Service for specific restrictions. When creating a username, we do not encourage use of your full or real name, especially if you are in a high risk area. Your username will be your public identifier throughout World Pulse and thus the internet.
2
Share Your Story With the Community
We are looking for stories from women, men, and girls themselves about girls' empowerment and access to education.
Tell us your personal testimony—either experienced or witnessed—and your vision for improving the lives of girls in your community.
Girls' Access to Education. The Barriers. The Solutions.
Tell us about the barriers you faced as a young woman or that girls in your community face when accessing education and solutions you've found in overcoming them:
What do you believe is the greatest challenge girls confront in your community to accessing an education?
Describe the barriers that prevent you or young women in your community from accessing education. For example: cultural biases or micro-inequities, lack of respect for women, economic constraints, lack of mentors, lack of confidence, or others.
What impact do you believe these barriers to education have had on yourself, your family, or community?
How have you or others been able to overcome these barriers?
Word Count:
Your story should be between 500 and 800 words.
3
Submit your story on WorldPulse.com
Follow the steps below to ensure that your story is properly submitted to the campaign.
Create and submit a new PulseWire journal entry to submit your story. Use the guidelines below to complete the journal entry form.Title: Create a title that reflects your voice and message.Journal Entry: Write your story, following the above criteria, in your journal.Topics: Consider adding key words or 'tags' to help us identify sub-topics you're addressing within the larger context of girls' access to education (eg. Gender Bias, Child Marriage, Empowerment, Economy).

Digital Action Campaigns: Check this box to ensure your voice is included in the campaign and delivered to influential forums.

Click submit and find your story on our interactive map!
Deadline
Submit your story by June 26th to be considered for publication in World Pulse's eMagazine.
4
Join the global conversation
Hear what your sisters worldwide are saying about girls in their own communities. Learn new ideas and solutions for providing empowerment and access to education, and write a comment to acknowledge her unique voice and vision for change. This may open the door for a new partnership in your work!
5
Stay up-to-date on campaign news
Visit the Girls Transforming the World Digital Action Campaign page to read the latest stories submitted for the campaign, learn about upcoming forums where your story will be presented, and hear how your voice is making an impact.
Source: World Pulse