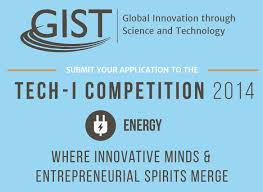 Application Deadline: july 21 2014
The GIST Tech-I is a yearly competition for science and technology entrepreneurs from around the world. Aspiring innovators pitch their ideas online, and the global voting public and experts choose thirty contestants to receive an all-expense paid trip to the Global Entrepreneurship Summit to showcase their ventures and receive intensive training. GIST Tech-I winners, selected by mentors and entrepreneurs at the Summit, win mini-grants and receive up to 3 months of one-on-one mentoring.
The Global Innovation through Science and Technology (GIST Tech-I Competition) Brings S&T ideas to the community via business plan and online pitch competition.
Benefits

Finalists participate in intensive training events at the annual Global Entrepreneurship Summit.
Winners also receive grants and 2-3 months of mentoring.
Bringing together innovative science and technology entrepreneurs to compete at the Global Entrepreneurship Summit in Morocco.
GIST empowers young people to use their science and technology (S&T) based ideas to commercialize new products and create companies that address economic and development challenges.
Since 2011, GIST has mentored over 3,500 startups, generated over $21 million in financing, and engaged over 1 million innovators and entrepreneurs.
Eligibility:
You must be a citizen of a GIST eligible country;
You must be between the ages of 18-40 years old on July 21st, 2014;
Your application must be written in English; and
Your promotional video must be in English or have English subtitles provided.
Requirements:
The Tech-I Competition is designed to encourage and support technology and science entrepreneurs to launch and/or grow a company through:
Training and mentorship with successful entrepreneurs, scientists, angel investors, and venture capitalists;
Networking opportunities; and
Access to capital.
Each Tech-I application, consisting of an Executive Summary and a promotional video (lasting no longer than 90 seconds) of the product or service, will be reviewed by one of the sixteen expert review panels convened by AAAS.
Each panel will be responsible for one of the four subject areas (Agriculture, Energy, Health, and Information and Communication Technology (ICT) in one of the four main GIST regions (Africa, Asia, the Middle East, and Latin America) and will consist of regional experts, scientific and technical experts, and innovation and entrepreneurship experts.
Apply Now for the 2014 GIST Tech-I Competition
For More Information:
Visit the Official Webpage of the GIST Tech-I Competition