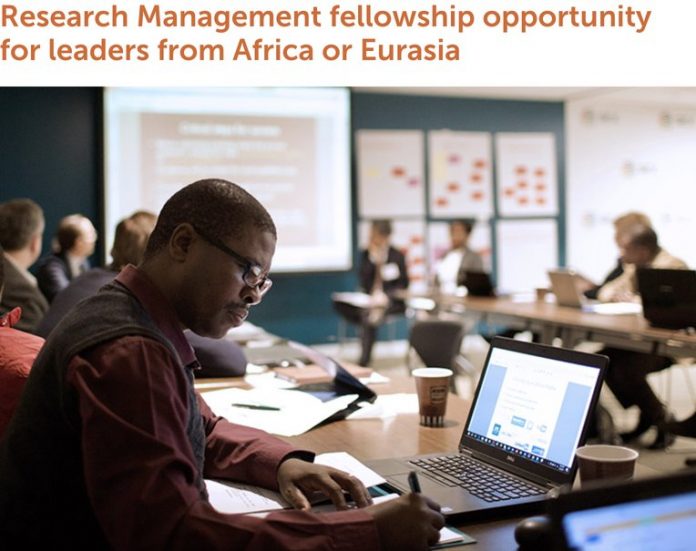 Application Deadline: March 3rd 2020
The IREX UASP Fellowships in Research Management support the development of university research management and knowledge transfer capacity through a six-week fellowship in the United States for mid- to senior-level university leaders. Two weeks of training in Washington, DC, a virtual learning environment, and a four-week placement at a respected US university support participants to build their universities into leading research institutions that impact their communities. Following the placement, fellows are supported to implement reforms in their home institution.
Goals
The fellowship aims to equip the new generation of university leaders across Africa and Eurasia with the knowledge, skills, and perspectives to strengthen and improve institutional management of research and knowledge transfer and be catalysts of change.
UASP fellows will understand international trends and best practices, actively disseminate their knowledge within and beyond their institutions, and apply their ideas, skills and networks gained through the fellowship to drive improvement to their institution's performance.
Eligibility and Selection
Applicants must:
Be a citizen of and reside in Armenia, Azerbaijan, Ethiopia, Georgia, Ghana, Kenya, Nigeria, Rwanda, Senegal, South Africa, Tanzania, or Uganda at the time of application and participation;
Hold a full-time mid- or senior-level position focusing on research management at an eligible university (seniority should be sufficient to demonstrate capacity to be a catalyst for change).*
Demonstrate engagement with the DVC/Director Research or an equivalent post and clearly articulate alignment of the proposed fellowship area of focus with institutional priorities;
Have a sufficient level of proficiency in written and spoken English to work independently in the United States and engage colleagues;
Be able to receive and maintain a J-1 visa. Please note, your passport should be valid at least 6 months after the fellowship program end date;
Be available to participate in the fellowship in the United States for approximately six weeks during Fall 2020 or Winter 2021;
Be committed to producing several fellowship-related assignments, including a comparative case study and implementation plan on a topic of research management; and
Not be a current IREX employee and/or consultant or an immediate family member (spouses, children, parents, siblings) of an IREX employee or consultant
Benefits:
The fellowship model includes:
Two weeks of intensive training in Washington, DC
A four-week placement observing and analyzing research management operations at a respected US university
Peer-to-peer learning
A virtual learning environment to share resources and network with peers remotely
Post-placement support implementing reforms, including a small grants competition
Submitted applications for the UASP will be reviewed against the following criteria
Quality, thoroughness, and relevance of applicant's answers to application questions;
Extent to which applicant has a strong track record working in their university's research ecosystem;
Extent to which applicant has a clear understanding of the issues facing their institution and a vision for performance improvement;
Extent to which applicant has the experience and institutional support to fully benefit from the program and drive change after the program (including demonstrated engagement with their DVC/Director Research and a letter of support);
Alignment of fellowship application with institutional priorities and commitment to creating or expanding systems to support their university's growth as a recognized and respected research university;
Extent to which applicant is committed to serving as a resource in the field of university research management, knowledge transfer, and to capacity building for peers in their academic and administrative communities;
Sufficient proficiency in English to converse and conduct work independently at the Washington DC workshops and at the US host university (For participants who do not use English as their primary professional working language, an interview will be held if no recent IELTS or TOEFL is available).
2020–2021 Application Timeline
March 3, 2020: Application Deadline
March – April 2020: Application review, selection, and notification of awards
September – November, 2020: 6 week Cohort 1 fellowship in the United States
January – March, 2021: 6 week Cohort 2 Fellowship in the United States
For More Information:
Visit the Official Webpage of the IREX UASP 2020 Fellowships in Research Management