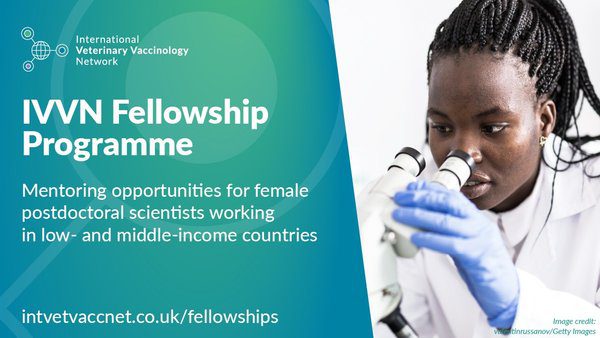 Application Deadline:9am on 9 April 2020.
The International Veterinary Vaccinology Network (IVVN) is proud to announce a new mentoring fellowship programme to promote the careers of female researchers in low- and middle-income countries (LMICs).
Funded by the IVVN and Canada's International Development Research Centre (IDRC), the fellowships will support female postdoctoral scientists working at research organisations in LMICs.
The fellowship scheme also offers a great opportunity for senior scientists to establish new international links, developing their leadership and management skills and passing on their knowledge and experience to a new cohort of young and enthusiastic scientists. With ongoing international collaboration research initiatives likely in the near future from multiple funders, this offers a great way to initiate new collaborations as well as support the future of promising young scientists from LMICs.

Benefits:
Successful applicants will receive up to £50,000 to work on projects that address key bottlenecks to developing vaccines against animal diseases. They will be supported by an international mentor, as well as a local mentor at their own institute. The format of the fellowships is flexible, and fellows and their mentors can decide when and how meetings take place.
Application Procedure:
Applicants are invited to submit a letter of intent to define the scope of the project and the Mentee/Mentor(s) partnership. If this partnership is not already identified then the letter of intent should be submitted to request assistance with finding a potential Mentor.

Letters of intent should be submitted to the IVVN at [email protected] by 9am on 9 April 2020.

Please ensure you have read the IVVN Fellowship Guidance Notes for details of eligibility and further information about the fellowship programme before submitting the letter of intent.
For More Information:

Visit the Official Webpage of the IVVN Mentoring Fellowship Programme 2020