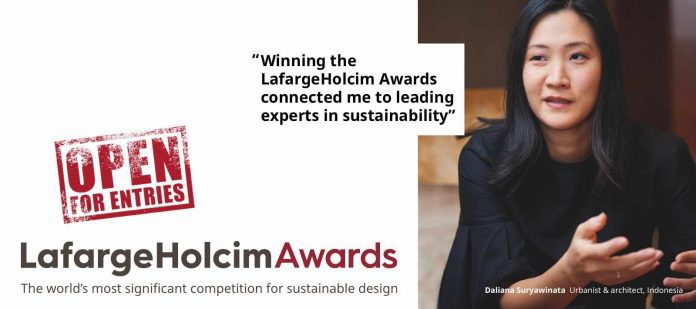 Application Deadline: February 25, 2020.
The LafargeHolcim Awards seek leading projects of professionals as well as bold ideas from the Next Generation that combine sustainable construction solutions with architectural excellence. The 6th cycle of the international competition is open for entries until February 25, 2020. The Awards foreground projects and concepts from architecture, engineering, urban planning, materials science, construction technology, and related fields. Prize money totals USD 2 million. 
The Main Awards category is open to architects, engineers, planners, project owners, builders and construction firms for projects at an advanced stage of design with high probability of execution. The Next Generation category for young professionals and students up to 30 years of age seeks visions and bold ideas. In both categories, execution of the project may not have started before January 1, 2019.
Independent juries hosted by associated universities of the Foundation evaluate the submissions:

The "target issues" for sustainable construction serve as evaluation criteria:
Prize by Category:
LafargeHolcim Awards main category
The total prize money for each of the five regional LafargeHolcim Awards competitions is USD 330,000 including USD 260,00 in the main category:
LafargeHolcim Awards Gold USD 100,000
LafargeHolcim Awards Silver USD 50,000
LafargeHolcim Awards Bronze USD 30,000
4 x LafargeHolcim Awards Acknowledgement prizes of USD 20,000 each
LafargeHolcim Awards Next Generation category
The total prize money for each of the five regional LafargeHolcim Awards competitions is USD 330,000 including USD 70,00 in the Next Generation category:
LafargeHolcim Awards Next Generation 1st prize USD 25,000
LafargeHolcim Awards Next Generation 2nd prize USD 20,000
LafargeHolcim Awards Next Generation 3rd prize USD 15,000
LafargeHolcim Awards Next Generation 4th prize USD 10,000
Global LafargeHolcim Awards
The 15 recipients of regional LafargeHolcim Awards Gold, Silver and Bronze are automatically nominated for the Global LafargeHolcim Awards in 2020. The prize money of the Global LafargeHolcim Awards competition is USD 350,000:
Global LafargeHolcim Awards Gold USD 150,000
Global LafargeHolcim Awards Silver USD 100,000
Global LafargeHolcim Awards Bronze USD 50,000
Global LafargeHolcim Awards Wild Card from a budget of USD 50,000
For More Information:
Visit the Official Webpage of the LafargeHolcim Awards 2019 Competition in Sustainable Construction