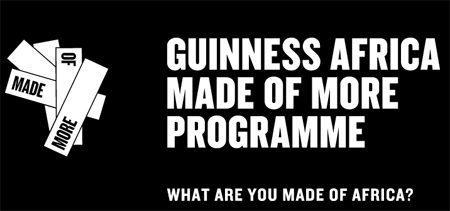 Submission Deadline:  13th January, 2014
Deadline for Application Grant:  31st October 2013.
What Are You Made Of Africa? Guinness is a bold beer, a beer MADE OF MORE. More taste, more style, more soul. Guinness believes that Africa is also MADE OF MORE. That every day across Africa a new generation of positive minded individuals wakes up ready to write the next chapter in modern Africa. Now it is giving African filmmakers the chance to show that they too are MADE OF MORE and create the next African Guinness TV Ad.
This contest is open to any African citizen or resident and is a chance to get show the world what you are made of, as the winning spot will become Guinness TV ad in 2014 and showcased globally. There are also 10 great cash prizes to be won, as well as production grants that you can apply for to help cover the cost of creating an amazing film.

Eligibility
THIS CONTEST IS OPEN ONLY TO CITIZENS OF AFRICAN STATES OR THOSE RESIDENT IN ANY STATE IN THE AFRICAN CONTINENT FOR AT LEAST 12 MONTHS PRIOR TO ENTERING THE CONTEST
Entry Process
Entering is simple, just download the brief  and create your entry.
 Download
Brief(EN) / Brief(FR)
Application for a Production Grant
MOFILM's Production Grants are available to Filmmakers working on entries only for the MOFILM Made of More Guinness Africa Video Contest 2013. The Production Grants are available in amounts up to US $2500 to help Filmmakers create great work. The funds can be used to help pay for additional equipment, vehicle rental, editing software, props hire or any of the other significant expenses that might stop someone from creating their very best work.
Please note that all applications will be assessed and/or approved on the basis of the information provided in this form, at MOFILM's sole discretion. MOFILM's decisions regarding all applications will be final and no discussion or further correspondence will be entered into.
The agreed amount of each approved Production Grant will be paid to the Filmmaker by MOFILM no earlier than sixty (60) days after the relevant film is uploaded to www.mofilm.com PROVIDED that all of the requirements set out below have been met, verified and approved by MOFILM.
The requirements for payment of the award are:
(1) timely delivery of a properly-executed Filmmaker Agreement;
(2) timely delivery of all properly-executed Talent Release Forms (and, if applicable, Music Rights Clearance Forms;
(3) full content clearance by MOFILM of the submitted video; and
(4) delivery of valid receipts for all Grant-related goods and services (including in each case full vendor name and contact details).
Grants will be allocated as request come in will be considered. It is recommended that you apply as early as you can, applications will be closed on the 31st October 2013.
Please direct any questions to [email protected]
For More Information:
Visit the Official Webpage of the Made of More Guiness Africa Video Contest
Apply Now for an Application Grant