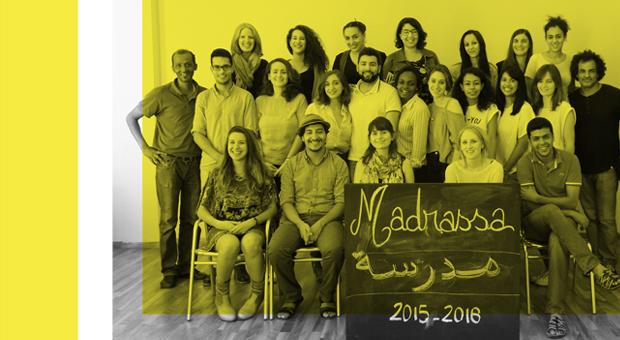 Application Deadline: 5 May 2017. 
Applications are now open for the second edition of Madrassa, which will take place during autumn 2017 in Casablanca, Alexandria, Algiers and Amman. Eight young curators and arts professionals will be selected to participate in this unique programme of curatorial research and practice in contemporary art.
Madrassa supports innovative and independent curatorial practices that seek to render art more accessible to all. It explores socially engaged visual-arts practices, promotes collaborative projects and rich transnational exchange, and offers a platform for experimentation to the region's emerging curatorial talents.
This year's edition includes a training session in Casablanca (25-29 September 2017), which will include meetings, site visits, presentations and case studies led by regional and international curators and speakers, as well as a ten-day curatorial residency in one of Madrassa's partner institutions in Algeria, Egypt, Jordan or Morocco (1-10 October 2017).

The training sessions and residencies are specifically dedicated to alternative historiographical approaches that are being developed through curatorial practices in North Africa and the Middle East.
Requirements:
Madrassa targets professionals (or students about to finish their studies) that are active in North Africa and/or the Middle East, and who meet at least two of the following criteria:
Experience in an organisation such as a museum, an arts centre, a gallery, a festival, a biennale, an artist residency, an arts or culture magazine, archives, etc;
Studies in cultural management or arts;
A strong interest in curatorial practices and art history.
The programme offers half-board accommodation during the training programme and the residency.
For the curatorial residency, international transportation is covered by the programme.
For the training in Casablanca, international and domestic transportation must be covered by the participants (or their institutions).
Application Procedure:
Applications must be sent in English to [email protected] and must include:
A CV and covering letter;
A project proposal related to the curatorial residency in the country of your choice (one page maximum);
Any other relevant documents (art or writing portfolio, etc)
A good knowledge of English is required, as it is the common language of most of the participants and speakers.
Timeline:
The deadline for applications is 5 May 2017. 
Selected participants will be notified on 30 May 2017.
For More Information:
Visit the Official Webpage of the Madrassa's 2017 training workshop and curatorial residencies