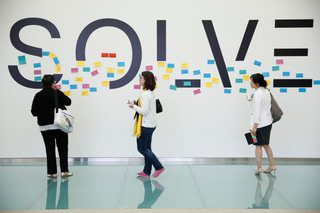 Application Deadline: July 1, 2019 at 5:00pm ET
Each year Solve seeks solutions from tech innovators around the world for its Global Challenges, and anyone can submit a solution by July 1, 2019.
Benefit
Finalists are invited to pitch their solutions at Solve Challenge Finals during UN General Assembly Week in New York City in September. Selected Solver teams will join a supportive community of peers, funders, and experts to help advance their work; receive mentorship and strategic advice from Solve and MIT networks; attend Solve at MIT, our annual flagship event in May; and receive access to more than $725,000 in prize funding for the 2019 Challenges. 

In the last two years, Solve's community has committed more than $7.5 million in funding to Solver teams, in addition to in-kind support such as mentorship, technical expertise, media and conference exposure, and business and entrepreneurship training.
Requirements:
Anyone, anywhere around the world aged 13 and older can submit a solution to Solve's Challenges. You can be an individual, a team, or an organization. You can be an applicant from previous years or already part of our community. If you have a relevant solution, we hope you'll apply.
Source Solutions
Solve seeks innovators around the world with solutions to our Global Challenges. Whether your solution is just a prototype, you're running a pilot, or you're ready to scale, we want to hear from you.
Select Solutions
Once the submission deadline passes, judging begins. After an initial screening by Solve staff, our Challenge judges select the most promising solutions as Finalists. These Finalists will be invited to pitch their solutions live at Solve Challenge Finals, where judges will select the new Solver class.*
Support Solutions and Partnerships
Once selected, the Solver class joins Solve's global community of cross-sector leaders—gaining access to funding, resources, mentorship, and new connections. Resulting partnerships between our Solver class and community Members will be announced at our flagship event Solve at MIT.
Solve seeks innovative, human-centered, tech-based solutions to our Global Challenges. We will consider solutions at all stages of development:
Idea: We welcome you to submit your solution idea, but please note that concept-stage solutions are unlikely to be selected. You have until the submission deadline to prototype and experiment with your idea!
Prototype: A venture building and testing its product, service, or business model. Typically described as "pre-seed" if for profit.
Pilot: An enterprise deploying a tested product, service, or business model in at least one community. Hybrids and for-profits would typically be in a "seed" round and generating revenue (whether or not they are cash flow positive).
Growth: An enterprise with an established product, service, or business model rolled out, which is poised for further growth in multiple communities or countries. Organizations at this stage should have a clear path to sustainability. For-profits at this stage would be "seed" or "Series A."
Scale: A sustainable enterprise working in several communities or countries that is looking to scale significantly, focusing on increased efficiency. For-profits in this stage would be "Series A" or "Series B.
2019 Global Challenges:
July 1, 2019 at 5:00pm ET: Deadline to submit a draft solution application 
July 22, 2019 at 9:00am ET: Deadline for editing a solution application 
August 2019: Finalists announced 
September 2019: Finalists pitch at Solve Challenge Finals during UN General Assembly Week in New York City
For More Information:
Visit the Official Webpage of the MIT Solve Challenges 2019