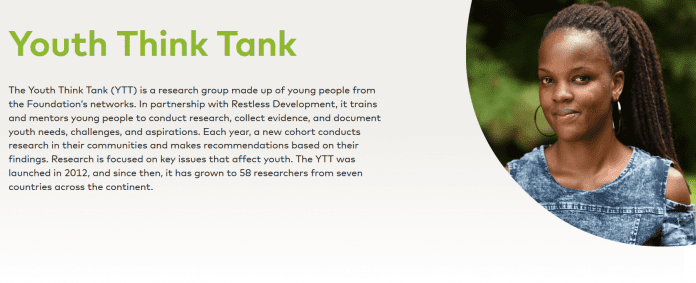 Application Deadline: 17th March 2019.
Mastercard is looking for innovative young men and women, aged (18-24); from Uganda, Kenya, Tanzania, Rwanda, Malawi, Zambia or Ghana; who are passionate about research for development to join the Youth Think Tank (YTT). The YTT is a group of young African researchers. They conduct research to support Foundation programming and strategy development. They are trained and mentored to conduct research, document youth needs, challenges, and aspirations, and share their findings with government, policymakers, and development practitioners.
The Youth Think Tank (YTT) is a research group made up of young people from the Foundation's networks. In partnership with Restless Development, it trains and mentors young people to conduct research, collect evidence, and document youth needs, challenges, and aspirations. Each year, a new cohort conducts research in their communities and makes recommendations based on their findings. Research is focused on key issues that affect youth. The YTT was launched in 2012, and since then, it has grown to 58 researchers from seven countries across the continent.
Requirements:
Nationals of the participating countries (Uganda, Kenya, Tanzania, Rwanda, Malawi, Zambia and Ghana) aged 18-24 years
Must hold valid passport and associated travel documents or demonstrate timeliness to secure them
Benefits:
This is a voluntary position but honorarium of $800 will be paid for the whole period upon satisfactory accomplishment of assigned tasks
There will be travel to at least 3 workshops in 2019 that will include the research design workshop in February 2019, an analysis workshop in May 2019 and launch events
KEY PRIORITIES
Attend and contribute to the research design by providing country specific context based on your experiences and lived realities of youth in your country
Liaise with a thematic country team of 3 peers to lead quality data collection from young people, government, Private Sector, Civil Society, communities and other stakeholders
Analyse collated data to generate country specific report
Lead community research co-design workshops with community members, Mastercard Foundation partners and other development agencies
Share and discuss research findings through launch events convened by Restless Development and Mastercard Foundation and through your planned in country spaces
Please send a completed application form and required documentation to [email protected] by 17th March 2019.
Please note that we DO NOT accept CVs, resumes and cover letters.
For More Information:
Visit the Official Webpage of the Mastercard Foundation Youth Think Tank 2019