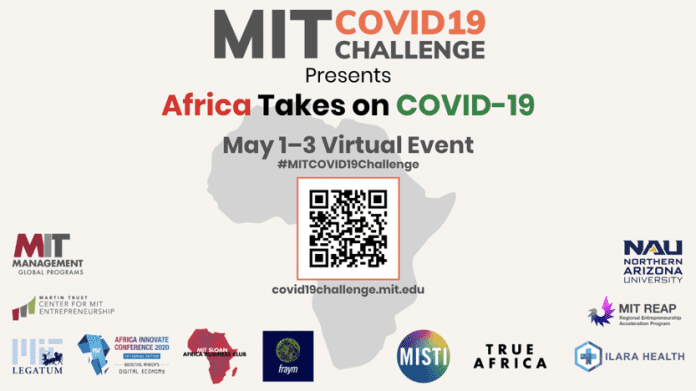 Submission Deadline:April 28th at 6PM EST.
The Africa Takes on COVID-19 Challenge event is the third in a series of virtual hackathons. Over the course of two days, multi-disciplinary teams will collaborate to develop innovative solutions that can help address the COVID-19 crisis. We are focused on connecting teams with the tools and resources needed to develop mature solutions that can be implemented by our partners. After the Challenge, selected teams will ave the opportunity to bring their solutions to life with the support of our partners.  
Where:
This is a virtual event. Teams will work together throughout the two-day event using tools such as Zoom, Google Drive, WhatsApp, and/or Slack. 
Time Commitment

The Challenge is a 48-hour sprint beginning on Friday afternoon (5/1) and ending on Sunday afternoon (5/3). Since the goal is to rapidly bring meaningful solutions to life, participants should expect to commit Friday evening, most of Saturday, and Sunday morning/early afternoon to the Challenge. Participants do not need to be available 24/7 for the duration of the event but should communicate their availability to team members.

Benefits

Winning teams will receive computing resources, organizational support and direct access to key partners to further develop, validate and implement solutions developed. 
Requirements
Participants ages 13+ of all experience levels, professional and academic backgrounds, and skill sets are welcome; what matters most is your commitment to making an impact and your willingness to collaborate. 
Team Formation:

Participants will work together in teams of 2-7 members. We strongly recommend teams to have 5-7 members. If you already have a team in mind, you can indicate who you would like to work with when completing the participant application form (all team members must submit an individual application and we cannot guarantee that every team member will be accepted to the event). Individuals are also invited to participate; we will form teams based on interest and experience. 
Application Procedure:

Please complete the application form found here. Applications are due by April 28th at 6PM EST. If you are applying with a team, all team members must submit individual applications. 
For More Information:

Visit the Official Webpage of the MIT's Africa Takes on COVID-19 Challenge