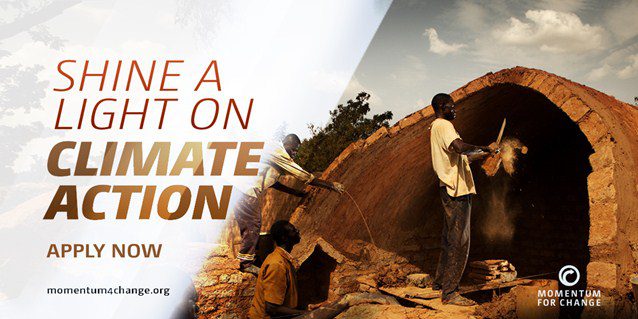 Application Deadline Extended: 23.59 GMT on 28 April 2016.
The search for Momentum for Change's 2016 Lighthouse Activities is on! Applications are being accepted from 19 February to 25 April. Spearheaded by the United Nations Climate Change Secretariat, Momentum for Change shines a light on the most innovative, scalable and replicable examples of what people around the world are doing to tackle climate change.
If you're leading a results-driven project that is successfully addressing climate change, we want to hear from you!
Eligibility Requirements:
Organizations, communities, cities, businesses, governments and others that are taking concrete action on climate change can apply to have their projects recognized as a 2016 Lighthouse Activity
 Benefits
If your project is selected as a winning activity, you will receive a wide range of benefits, including fully covered attendance to the 2016 UN Climate Change Conference in Marrakech, Morocco; access to policy makers and potential funders during the conference; public recognition by the UN Climate Change secretariat;
public relations support and media training; high-quality promotional videos and podcasts; a dedicated page about your project on our website; and graphic assets such as infographics and professional photography.
The selection process.
Lighthouse Activities will be announced in September 2016 and officially recognized and celebrated during an award ceremony and a series of special events in November at the UN Climate Change Conference in Marrakech, Morocco.
How to apply?
To start a new application, register in the online application portal.
 It will take at least an hour to complete an application but you can save your progress at any time and work on it at your convenience. Completed applications must be submitted by 23.59 GMT on 25 April 2016.
Apply Now for the Momentum for Change Awards 2016 
For More Information:
Visit the Official Webpage of the 2016  Momentum for Change Awards