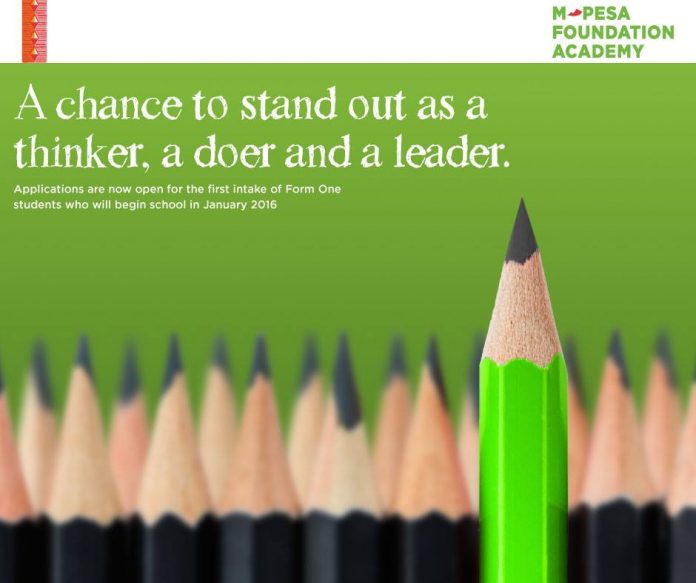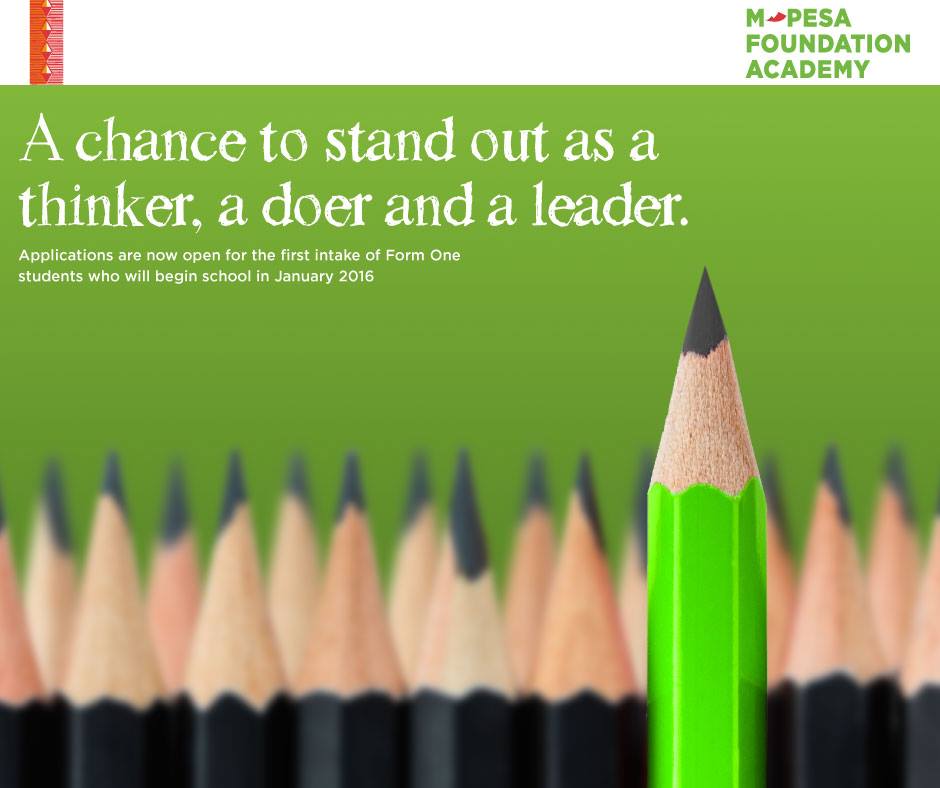 Application Deadline: August 31st 2016
The M-PESA Foundation Academy is a state of the art, co-educational and residential high school providing world class Kenyan education. Driven by leadership, entrepreneurship, technology and innovation, The Academy serves talented but economically disadvantaged students with demonstrated leadership potential.
Students who graduate from The Academy will be leaders in their fields of interest, such as business, academia, politics, sports or the arts. They will be the entrepreneurs and
community leaders who will drive Kenya forward.
Consistent with the Kenya Ministry of Education guidelines, students have a
choice of the following subjects: B | Core Strategies in Action

Group I
English
Kiswahili
Mathematics
Group II
Biology
Physics
Chemistry
Group III
History & Government
Geography
Group IV
Home Science
Art and Design
Agriculture
Woodwork
Metalwork
Drawing and Design
Computer Studies
Building and Construction
Group V
French
German
Music
Business Studies
In addition to examinable subjects, The Academy offers supplementary subjects to fulfil students' other educational needs.
Residential Life
The Academy is fully residential. All students, as well as most faculty members, live
on campus. This is a comfortable and safe environment, in which students practice
their value-based education and leadership.
Each residential floor has a live-in faculty member who is in charge of the overall wellness of the students. The spaces in the residential floors are designed to promote a healthy social livelihood.
ADMISSIONS
Admission into The Academy is based on an independent application process.
Each applicant must be in their last year of primary school and be aged between
13 and 15 years old registered to sit their KCPE assessment in November.
Application to The Academy
Admission is evaluated on the following criteria:
A. Academic Excellence
B. Leadership and Entrepreneurship Potential
C. Financial Need
D. Responsible Citizenship
E. Critical Thinking
F. Problem Solving
Applications are accepted from students from all counties in Kenya.
The admissions cycle runs from May to November each year, and consists of filling and returning an application form and a multiple stage evaluation process, including telephone and in person interviews for selected applicants.
For More Information:
Visit the Official Webpage of the MPESA Foundation Academy 2017