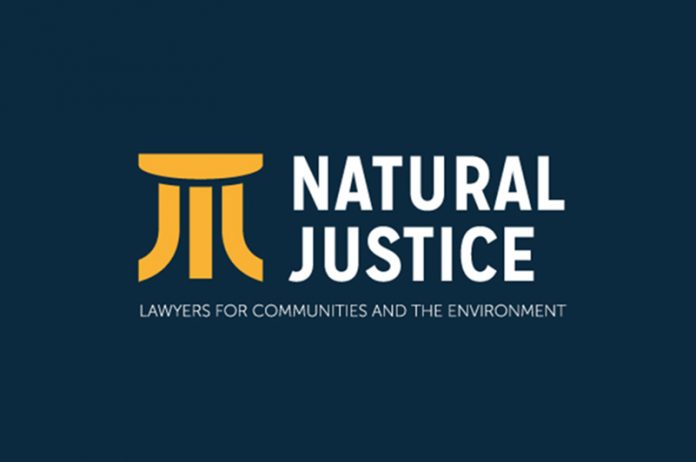 Application Deadline:17 September 2020 at 5:30pm East African Time
Natural Justice is an African non-profit organization specializing in environmental justice. Natural Justice uses the law to support communities participate in decisions that affect their land, culture and environment.
The EJ Legal Fellowship offers an exciting opportunity to young, up and coming Kenyan professionals who are passionate about supporting communities in securing rights to their lands, resources and knowledge. The fellows will be introduced to a broad spectrum of issues within environmental and human rights law and provided hands on experience and training in research, legal empowerment, data collection and analysis, public interest litigation, analysis on laws and regulations, and advocacy.
We are specifically looking for individuals who can, among other tasks, undertake the following:

Assist with research and the conceptualization of climate change, land and environmental justice litigation.
Assist with the preparation of briefs, pleadings, and submissions on climate change, land and environmental justice litigation.
Assist with the provision of technical support to communities and community partners on a broad range of environmental justice matters.
Provide support for the team in curating subject-matter knowledge on the jurisprudence of the National Environment Tribunal and Environment and Land Court in environmental cases
The Fellowship will be for a short period of up to 3 months, up to the end of the year, full time, with a possibility of extension in 2021. A modest salary will be offered. The successful applicants will be required to begin immediately.
Selection Criteria
Qualifications and Personal Profile:
A Bachelor of Laws degree
Fluency in English and Kiswahili
Ability to engage in research, draft reports and legal documents
Excellent writing skills with the ability to critically analyze relevant environmental laws and policy issues
A passion for learning and a commitment to environmental justice
Ability to work productively and to deadlines
Reliability and attention to detail
Ability to work both independently and as a team member
A willingness to travel on a regular basis on short notice and sometimes for extended periods
An awareness of and sensitivity to the needs and concerns of individuals from diverse cultures, backgrounds and orientations
Committed to continuous learning and to self-development with a focus on professionally promoting organizational interests, objectives and values
How to Apply
Applications should be submitted via email to [email protected] with 'EJ Legal Fellowship' as the subject line
Applications must include:
A cover letter that indicates: a) why you believe environmental justice is important in Kenya and b) why you're interested in the EJ Legal Fellowship;
A detailed CV with three references; and
One sample of your written work (for example, articles or research reports written by you (not jointly written or edited by other people)
Applications Deadline
All applications to be sent on or before Thursday, 17 September 2020 at 5:30pm East African Time
Only shortlisted applicants will be contacted
For More Information:
Visit the Official Webpage of the Environmental Justice Legal Fellowship 2020