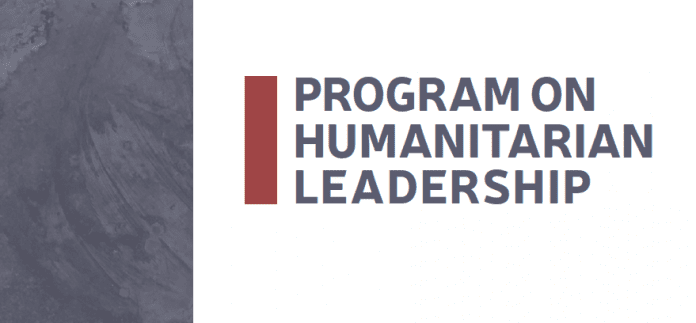 Application Deadline: December 19th 2016
PHL is seeking applications from exemplary, mid-level career humanitarian professionals working for non-governmental or community-based organizations in humanitarian settings. PHL will consider graduate students who have worked previously in the humanitarian sector and have experience in at least one or more humanitarian emergency situations.
PHL is designed for exceptional humanitarian professionals working for non-governmental or community-based organizations in humanitarian settings. The ideal participant will aspire to take on decision-making and management responsibilities in the humanitarian sector.
By the end of this learning process, PHL participants will have the skills, knowledge, and confidence to take on leadership responsibilities within a variety of humanitarian organizations, ultimately improving the delivery of services to those in need of humanitarian assistance.

PHL is managed by a consortium led by Concern Worldwide. Concern's partners in the consortium are International Medical Corps and the Harvard Humanitarian Initiative, with technical support from Johns Hopkins University's Bloomberg School of Public Health. The program, funded by the Office of U.S. Foreign Disaster Assistance, brings together a unique combination of operational, pedagogical, and technical expertise with a deep understanding of the international humanitarian architecture and the NGO community.
Eligibility Requirements:
All participants of PHL must meet a standard set of minimum requirements, including:
A demonstrated interest in pursuing a leadership role in the humanitarian sector
The ability to speak, read, and write English with proficiency
A Bachelors degree or a comparable academic or professional qualification
Availability to participate in the course (including the in-person training, distance learning and experiential learning highlighted above)
Permission of either your employer (for professionals) or academic supervisor (for graduate students) to participate in all aspects of the program
Attainment of a mid-level position in a non-governmental or community-based organization
Experience in at least one or more humanitarian emergency situations
Aspiration to take on leadership roles in and have a commitment to the humanitarian sector

A passport that is valid for at least six months after the date of the May in-person training course
Benefits
PHL covers all costs associated with the in-person training (i.e., course fees, round-trip flight to Kenya, accommodation and meals during the in-person training only).
Please note that any incidental costs are the sole responsibility of the PHL participant (i.e., visa fees, telephone usage, additional food expense, etc.), and PHL does not provide a per diem.
Successful applicants will be required to:
Travel to Nairobi for approximately five days for the in-person course, May 1-5, 2017 (dates to be confirmed).
Complete course pre-requisites and participate actively in all distance learning activities, tentatively scheduled for mid-March through September 30th. We expect an average time commitment of 1-2 hours each week. Please note that participants who do not engage in the distance learning environment will not be invited to the in-person course in May and will not be able to continue with the program.
Participate in a mentorship program; each participant will be assigned a mentor who will provide mentorship for four months.
Optional: Participants may also have the opportunity to be placed with Concern or the International Medical Corps for additional field learning. The Field Placements coincide with the distance learning components of the program and would require an extended leave of absence from your home organization, tentatively scheduled from June through August. The exact length of time will be agreed upon by the host organization and the participant's employer.
For More Information:
Visit the Official Webpage of the Program on Humanitarian Leadership (PHL) 2017