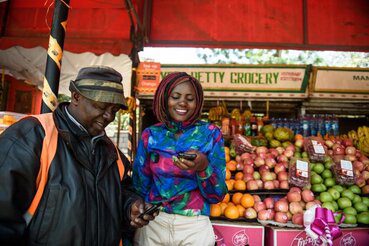 Application Deadline: 22 February 2021
DigiFI is invested in creating more opportunities for African scholars to develop and drive the research agenda on the African continent. 
DigiFI is excited to offer research funding to resident and non-resident African Scholars.
Resident African Scholars include those who have completed a PhD and are based in an African academic institution.
For this funding round, we are expanding our funding opportunities to non-resident African Scholars – those who completed high school in Africa, have a PhD, and are based in an academic institution outside of Africa.
Resident and non-resident African Scholars are eligible to apply for Proposal Development Grants (up to $10,000) and Pilot Grants (up to $75,000). Targeted mentorship will be provided to African Scholars who receive funds from the Initiative.

Targeted mentorship will be provided to African Scholars who receive funds from the Initiative. Mentors will advise the Scholar throughout the project. Mentors can include any J-PAL affiliate or the Research Advisor at J-PAL Africa. African Scholars may either identify an eligible mentor before submitting a proposal or will be linked through the Initiative after their proposal has been selected by the DigiFI board. 

African Scholars are required to submit a letter from their mentor prior to the disbursement of funds. This letter will provide a framework for how the Scholar and mentor will work together throughout the project. Scholars who are matched to a new mentor will be expected to have a phone call with the mentor before completing this letter. 
Capacity Building Opportunities
1. Take the J-PAL Micromasters course
Anyone is welcome to audit the online course for free. However, participants are required to pay a fee to take the course exam which is required for course credit. African Scholars, as well as PhD students based in Africa and Government officials based in Africa, are eligible to apply for scholarships through DigiFI. Applications are OPEN for the US Spring term. The course starts on Tuesday 9 February 2021. Applications are due by 22 February 2021. One, therefore, needs to start the course before scholarship acceptance. Scholarship selection is made based on performance in the first few weeks, along with other factors. The J-PAL MicroMasters courses are all free to audit.
2. DigiFI African Scholar webinar series 2020
We hosted a four-part webinar series that covers some of the fundamentals of running randomised evaluations. We encourage folks to listen to the recorded sessions if they were unable to join us in-person.
[COMPLETE] DigiFI Africa Scholars webinar with Jessica Goldberg (University of Maryland) Introduction to randomised evaluations with application to her Fingerprinting study in Malawi – Session recording
[COMPLETE] DigiFI Africa Scholars webinar withDan Levy (Harvard) [pre-recorded content] Why Randomise?
[COMPLETED] DigiFI Africa Scholars webinar withPatrizio Piraino (University of Notre Dame) – Sample size and power – Session recording
[COMPLETED] DigiFI Africa Scholars webinar with Emily Cupito and Gabe Tourek (J-PAL Africa) – How to write a good research funding proposal? – Session recording
3. Resources for African Scholars
The DigiFI team have identified a number of resources that may be useful for African Scholars who would like to refine their skills in randomised evaluation and research design.
What are randomised evaluations? How do they differ from impact evaluations?
A randomized evaluation is a type of impact evaluation that uses random assignment to allocate resources, run programs, or apply policies as part of the study design. Like all impact evaluations, the main purpose of randomized evaluations is to determine whether a program has a causal impact, and more specifically, to quantify how large that impact is.
Impact evaluations measure program effectiveness typically by comparing outcomes of those (individuals, communities, schools, etc.) who received the program against those who did not. There are many methods of doing this. But randomized evaluations have the benefit of ensuring that there are no systematic differences between those who receive the program and those who do not, thereby producing accurate (unbiased) results about the effect of the program. For more information see J-PAL's introduction to randomised evaluations.
Training in randomised evaluations
J-PAL runs an in-person Evaluating Social Programmes course annually and is based in different locations. This is intended to give an overview of randomised evaluations for a practitioner audience. Keep an eye on our website for more details. Video and lecture course content from a past Evaluating Social Programmes course (JPAL101x) can be accessed here. A free online version of the course can also be found here.
J-PAL hosts an online training course in designing and running randomised evaluations (J-PAL102x). This course teaches learners how to both design randomized evaluations and implement them in the field to measure the impact of social programmes. It is a 12-week long course and can be audited for free. The course runs three times a year, in Spring, Summer and Fall. African Scholars are eligible to apply for scholarships to complete the exams and receive course credit.
For More Information:
Visit the Official Webpage of the Scholarships for DigiFI African Scholars