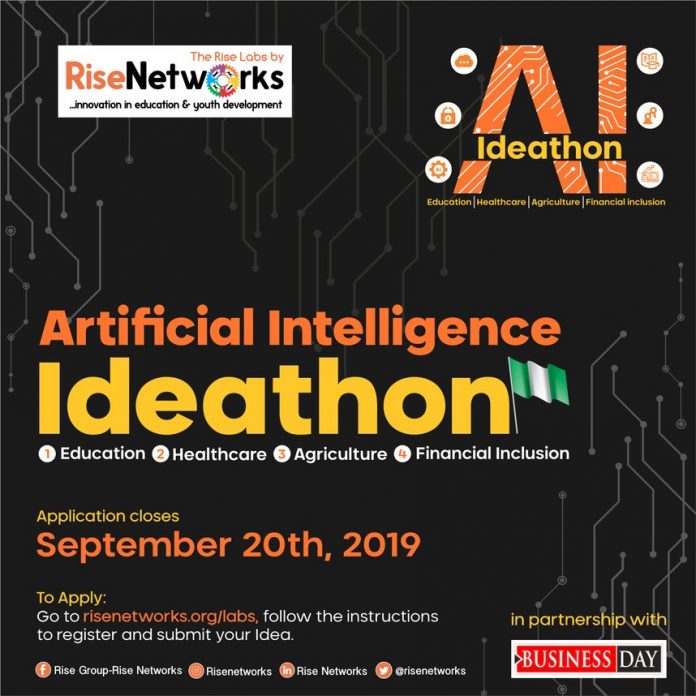 Application Deadline: September 20th, 2019 (West Africa Time).
Artificial Intelligence is expected to transform various industries just as Electricity did over 10 Decades ago and global consulting firm, McKinsey has stated that non-internet sectors like Agriculture, Education, Energy, Logistics & Manufacturing will see a $13 Trillion GDP growth driven by AI by 2030.
That's why The Rise Labs by Rise Networks, Nigeria's first AI powered Learning, Research and Work Readiness Centre based in Lagos, Nigeria's commercial capital in partnership with Business Day and other Key Private Sector Stakeholders has launched the Nation's first Artificial Intelligence Ideathon by calling for revolutionary ideas that have the potential of solving Nigeria's Education, Agriculture, Healthcare and financial inclusion problems using Artificial Intelligence and Machine Learning models and methodologies.
Requirements:

The 2019 AI IDEATHON is open to students, data scientists, working professionals, developers and academics across Nigeria who are passionate about becoming the early pioneers of groundbreaking innovative solutions to the challenges identified above by applying their knowledge and ideas in the realm of Artificial Intelligence and Machine Learning Solutions while encouraging research and collaboration to drive industry-focused AI innovation and the uptake of AI-driven results across sectors.
Benefits:
Winners of the Ideathon will get the rare opportunity of a veritable springboard to showcase and share their AI and ML models and applications to a broad community of stakeholders especially Policy Makers, Technology Experts and Organizations, Leaders in the Private Sector and Venture Capitalists to facilitate the scaling and execution of their ideas.
They will also win world class, brand new work tools and software which include an Apple MacBook Pro (13-inch, 2018) +$1000, a Microsoft Surface Book 2 (13.5-inch), a 13-inch, 2018 MacBook Air along with a Publication of their Ideas in The Rise Labs National AI Innovation e-book,  Mentorship Support by some the best AI Innovators & Experts within Nigeria & around the World, National Public Recognition & Opportunity to Network and fundraise at WORKPLAN:
Africa's Action Plan on Education, Skills and the Future of Work for the Youth on November 23rd, 2019 and a Free 3-6months Workspace, Incubation and Technical support at The Rise Labs.
For More Information:
Visit the Official Webpage of the Rise Labs by Rise Networks Artificial Intelligence Ideathon 2019