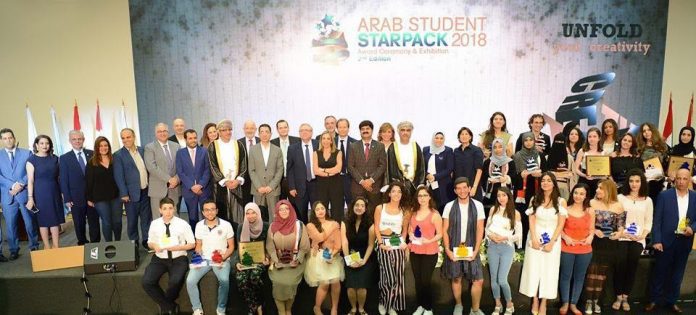 Application Deadline: March 15th 2019
UNIDO and LibanPack will be organizing the third edition of Arab Student StarPack competition 2019 addressed to university students in the Arab Countries.

UNIDO is organizing Arab StarPack as part of its mission in ensuring an inclusive and sustainable development through industrial development by involving the youth and providing them with an invaluable opportunity to unleash their creativity and upgrade the packaging of their national products.

LibanPack has been organizing Lebanon Student StarPack, the first packaging contest in Lebanon and the Middle East since 2010. The competition falls within the packaging awareness side of LibanPack' objective. Through Arab Student StarPack, LibanPack and UNIDO will be creating a bridge between the young generation of future graphic designers, industrial and food engineers and industrialists. In this connection, interactions with other UNIDO projects such as PAMPAT* and CCI* would also foster synergies with creativity and agro-industry in the region as a mean to increase jobs and income opportunities.
The competition is accredited by WPO*. Winners will automatically be qualified to participate in World Star competition organized by WPO, granting winning projects international visibility.
RULES
The Competition is addressed to University students currently enrolled in B.A or M.A Programs and is not addressed to professionals.
The Nationality of the student and the selected product should be the same.
Students can choose to work on primary, secondary or tertiary packaging.
Participants can register for more than one entry and submit several applications.
Students can choose to work on a product that does not exist before on the condition that the product can easily be produced in his country
With the exception of cigarettes and other tobacco products, the contest will accept all sorts of products such as: food, agriculture produce, cosmetics, pharmaceuticals, consumer products, or other industrial products such as shoes or clothes.
An application is linked to one student only: Two students cannot collaborate and submit one application. It is not a group work project. However, two students can collaborate to present two categories for the same product; one student for visual category and the other student for the structural category.
All the applications have to be endorsed by the university of the participating student in case the competition was adopted as a class project.
UNIDO and LibanPack have unlimited rights to use all artwork submitted by the students to promote the competition and the award ceremony.
With the exception of the rights outlined in above point, entrants should make their own arrangements to ensure that their intellectual property rights are fully protected.
Eligibility Requirements:

The competition will be organized on an Arab Regional level and will be launched in all Arab Countries.
More than 2000 Arab students from 22 Arab countries are expected to participate in the competition of Arab Student StarPack.
Arab University Students currently enrolled in the following faculties are eligible to participate:

Graphic Design
Industrial Engineering
Product Design
Packaging
Food Engineering
Other Related Studies
Benefits:
Award Ceremony

The award ceremony for Arab StarPack 2019 will take place in June 2019 in a certain Arab country that will be defined later. The ceremony will be organized under the patronage of the high level representative of the selected country. During the ceremony, winners will be announced. Winners will be selected per country who will then compete for the Pan Arab Award.

The award ceremony will be followed by the inauguration of students' projects exhibition. Ministers, ambassadors, leading professionals of the food and packaging industry, representatives of private and public sector associations, non-governmental organizations, academia, and students will be attending the event.

Winners
Invitation to attend the award ceremony (Travel and accommodation will be covered by the organizers).
Receive significant publicity and exposure among Arab Media.
Gain invaluable experience from their participation in a regional competition.
Possible Job opportunity with leading industries.
Participation in the WPO World Star competition 2019.
Arab StarPack trophy engraved with winner name that will be handed during the award ceremony.
Possible additional Prizes from organizers and sponsors.
For More Information:

Visit the Official Webpage of the Arab StarPack 2019