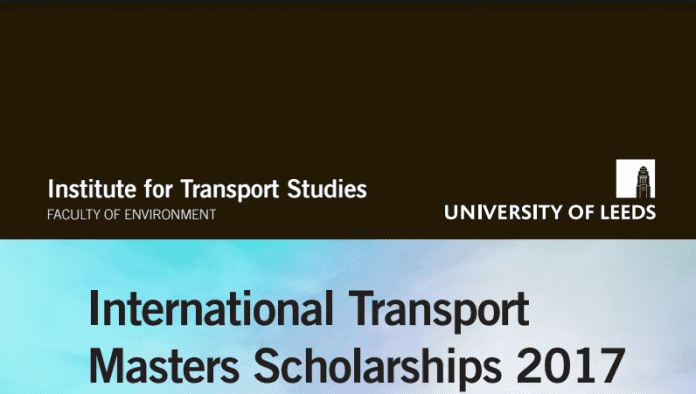 Application Deadline: 22 June 2017.

The Institute for Transport Studies (ITS) at the University of Leeds invites applications for fees scholarships worth up to £8875. The scholarships will fund 50% of the tuition fees for international, UK and EU students to undertake a full-time Masters degree programme and are intended to provide development opportunities to students of outstanding ability, achievement and potential.
Eligibility:
Eligible candidates must first hold an offer (conditional or unconditional) of an academic place on an ITS Masters programme for the academic year commencing September 2017. Applicants will need to provide information in their application detailing how a Masters degree would enable them to make a difference to transportation (e.g in their country, region or area) and specifically to tackle a significant problem or issue. All scholarship applications will be assessed on a competitive basis. A scholarship award cannot be deferred and will lapse if not taken up in September 2017.
Eligible groups:
Citizens of ALL countries.

Participating Institutions:
Institute for Transport Studies (ITS) University of Leeds.
Fields of study
Transport Planning, Transport Economics Transport Engineering, Transport & Environment, Mathematical Modelling, Sustainability in Transport.
Number of awards
Up to 10 awards for September 2017 entry.
Sponsorship duration
This scholarship will only apply to a one year full-time Master's Degree Programme offered at the Institute for Transport Studies.
Scholarship benefits
A 50% tuition fee waiver.
Method of Application
Scholarship applicants must first have received an offer of an academic place for a 2017 full-time Masters degree programme at the Institute for Transport Studies.  Nominees for scholarship awards are selected based on academic merit and the information provided in their application form.  It is important to visit the official website for detailed information on how to apply for this scholarship.
For More Information:
Visit the Official Webpage of the University of Leeds Masters in Transport Scholarships 2017