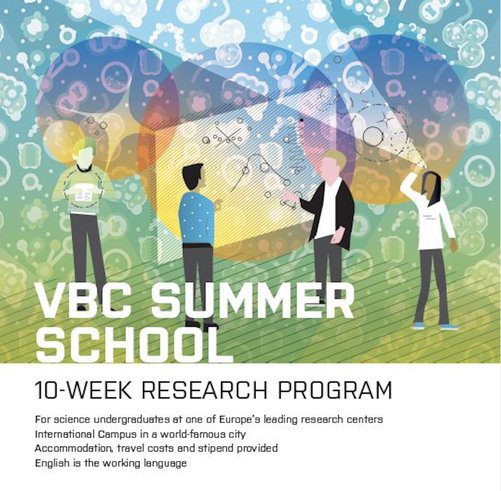 Application Deadline: January 31st 2020
The Vienna Biocenter Summer School provides a unique opportunity for approx. 30 undergraduate students to work side by side with leading researchers in a dynamic scientific environment
The programme aims to attract talented students from around the world, creating a vibrant and diverse atmosphere. It is the perfect preparation for those students who are interested in graduate study in the life sciences arena. Applicants who are successful are provided with accommodation, a travel allowance and a stipend for the duration of the scholarship. The programme, starts on the last Friday in June and finishes on the the last Friday of August each year.
The school is a collaboration between five of Europe's leading research institutes: Research Center for Molecular Medicine (CEMM), Gregor Mendel Institute (GMI), Institute of Molecular Biotechnology (IMBA), Institute of Molecular Pathology (IMP) and the Max Perutz Labs (Max Perutz Labs) and is generously sponsored by the Max Birnstiel Foundation.
Requirements:
To apply you need to have the following:
Completed at least 2 years of a University study (eg. 2/3 years of a Bachelor study or at least 1 year of a Master study – by 30 June)
Some previous research experience
Good academic record
High level of English language
Evidence of enrolment in a University programme for the current academic year and the next year (if possible)
Benefits:
Scholars will be housed free of charge in student accommodation.
The complex features modern rooms that are internet enabled, fully furnished, and have a shared bathroom and kitchen.
Benefits
Free student accommodation
Each student will be awarded a stipend of 1400 euros after tax for the nine-week programme
Medical insurance is included in the contract for the nine weeks
A free travel pass providing unlimited use of public transport within Vienna for the duration of the scholarship
Reimbursement of travel costs to and from Vienna
Numerous social events
For More Information:

Visit the Official Webpage of the Vienna Biocenter Summer School 2020