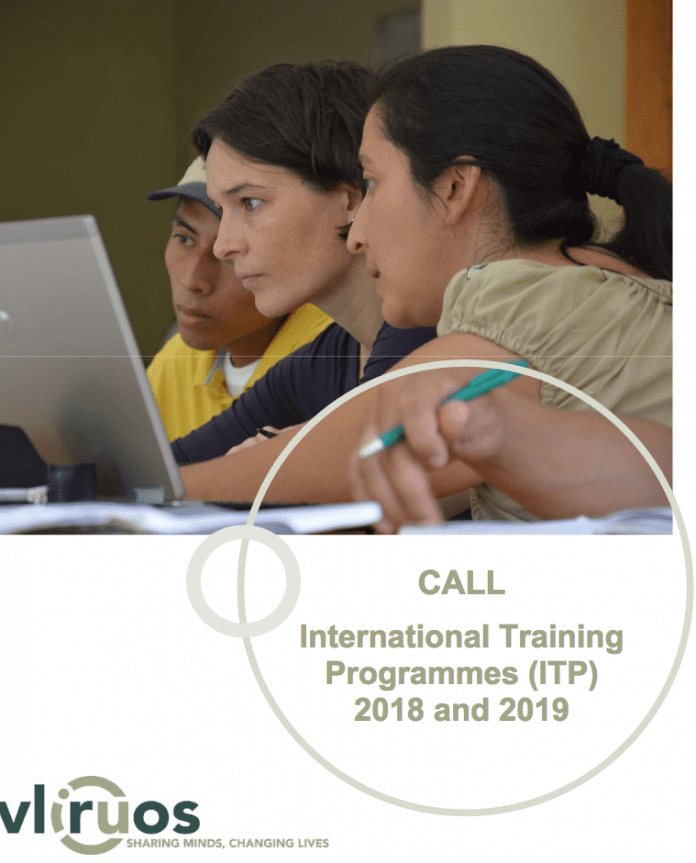 Application Deadline: Varying by Institutions
The International Training Programmes (ITP) are short- or medium term, intensive, interactive, and applicable trainings, organised at a university or university college
in Belgium/Flanders targeting participants from developing countries with relevant professional experience in the topic of the ITP and who are in the possibility to transfer and thus multiply the obtained knowledge and skills to a wider audience in the home country. VLIR-UOS provides scholarships in order to facilitate the participation of the targeted participants.
Eligibility criteria
Nationality and country of residence
A candidate should be a national and resident of one of the countries of the VLIR-UOS country list for scholarships (not necessarily the same country) at the time of application:
o Africa: Benin, Burkina Faso, Burundi, Cameroon, DR Congo, Ethiopia, Gui
nea, Kenya, Madagascar, Mali, Morocco, Mozambique, Niger, Rwanda, Senegal, So
uth Africa, Tanzania,Uganda, Zimbabwe.
o Asia: Cambodia, Indonesia, Palestinian Territories, Philippines, Vietnam.
o Latin America: Bolivia, Cuba, Ecuador, Guatemala, Haiti, Nicaragua, Peru.
Professional situation
The candidate should have relevant professional experience and a support letter confirming (re)integration in a professional context where the acquired knowledge and skills will be immediately applicable.
Benefits:
The Flemish institute is responsible for the payments to the scholarship holders, for their reception,housing and general guidance. Therefore, the management of these scholarships generate coordination costs, which are covered within the scholarship agreement with the university or university college at a rate of maximum 10% of the total scholarship expenses.
Deadline
This concerns the deadline before which applicants should submit their application to the ICOS of their university association. This deadline is different for the different university associations. Proposals must be submitted electronically.
Deadline for submission to the ICOS of the association:
Associatie Universiteit-Hogescholen Limburg (AUHL) / Limburg University Association: 6 June 2017
Universitaire Associatie Brussel (UAB) / University Association Brussels: 16 June 2017
Associatie KU Leuven (AKUL) / Association KU Leuven: 12 June 2017
Associatie Universiteit en Hogescholen Antwerpen (AUHA) / Antwerp University Association: 6 June 2017
Associatie Universiteit Gent (AUG) / Association Ghent University: 15 June 2017
How to Apply
How to Apply: The application file has to be submitted via data.vliruos.be and consists of the following components: Online modules to be filled in by the applicant. Please go to data.vliruos.be, register and fill in the indicated fields. Attachments to be uploaded by the applicant (mandatory formats are underlined)
Annex 1: The present application form to be filled in by the applicant and which cannot exceed 14 pages (Front Arial, size 9). Proposals exceeding the indicated maximum pages will not be accepted.
Annex 2: Budget proposal.
Detailed programme (max. 4 pages).
Short (max. 2 pages) CV per key person.
Written confirmation budget holder (if not the same person as the applicant promoter)
Evaluation former edition(s)
Annex 3: ICOS checklist, to be filled in by the ICOS
The table below provides an overview of all crucial information:
Budget:
Selection for one or two years (2018 and/or 2019):

Scholarships for participants (indicative number of 12 scholarships per ITP)
Indicative project allowance (outcome of calculation of fixed bench fee of € 54 per participant per day). For example: 12 scholars * 90 days * € 54 = € 58.320 or indicatove project allowance of € 648 per day (see annex 2).

Duration:
Calendar years 2018 and/or 2019

Min. 14 days and max. 3 months per year, course days and social activities included but travel days excluded.

For visa purposes, the total stay in Belgium (and in Schengen zone in general) of the (scholarship) participants cannot exceed 90 days.

Eligibility:
Professors / researchers / lecturers at a Flemish university or university college

Countries:
An ITP can only be organized in Belgium
Launch of the call:
16 March 2017
Deadline submission project proposals at level of the Flemish universities and university colleges (ICOS of the university association):
Depending on the university association (between 5 June and 16 June 2017)
Submission (two-stage):

Eligible applicant > ICOS > VLIR-UOS
Deadline sending proposals by ICOS of the university association to VLIR-UOS

1 July 2017
Selection:
First half of September 2017
Implementation period

between 1 January 2018 and 31 December 2018 and 1 January 2019 and 31 December 2019
For More Information :
Visit the Official Webpage of the VLIR-UOS International Training  Programmes (ITP) 2018/2019