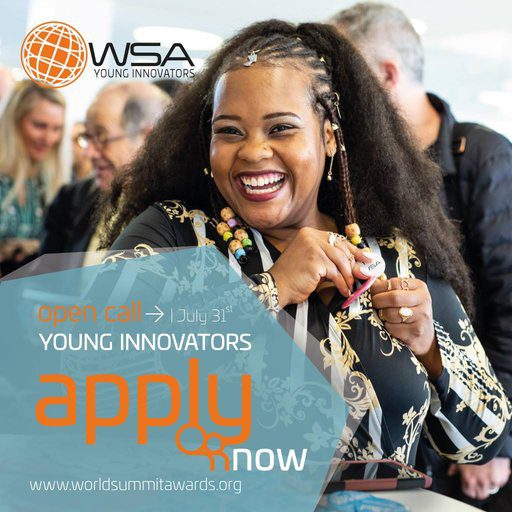 The WSA Young Innovators is a special call within the framework of WSA, that promotes and awards young social entrepreneurs. The WSA Young Innovators is a special recognition for young people under 26 years of age, using ICTs to take action on the United Nations Sustainable Development Goals (UN SDGs).

Together with the WSA winners of each year, they are honored as outstanding digital innovation with social impact.

ELIGIBILITY
Eligible for young citizens of all UN member states, WSA Young Innovators is open to every start-up, social entrepreneur, NGO, student or individual!
Submissions for the WSA Young Innovators can contain all mobile and web-based projects, such as: apps, web pages, applications for wearables, kiosk installations, SMS based products, games and interactive productions. There is no limitation regarding the platforms or channels the projects work with.
All submissions have to be launched products. No drafts, ideas or unfinished projects can be accepted.
PARTICIPATION AND SUBMISSION OF PROJECTS TO THE WSA YOUNG INNOVATORS
Taking part in the WSA Young Innovators contest is eligible through submission of a project with a clear digital component to the WSA Database.
Only submitted and fully filled in applications will be considered by the WSA Young Innovators Jury.
All information entered in the application form of the WSA Database must be in English.
Main team members of the projects submitted must be under 26 years of age (born on or after January 1, 1993).
The timeline is the same as the WSA Global.
An especially assembled Jury will evaluate all entries.
***CONTINENTAL PRE-SELECTION EU & MENA: WSA's sister award, the European Youth Award will serve as the official pre-qualification for Europe and the MENA region. The EYA Online Jury will evaluate all solutions and the best 10-17 solutions will be introduced to the WSA Global Young Innovators Jury, selecting then the 5 WSA Young Innovators 2019.

This is the first step for WSA to conduct regional Youth initiatives in all regions.
HOW TO APPLY
The WSA Young Innovators Award is an open call. The participation in the WSA Young Innovators is open to any entrepreneur, company, student group or project team – at least one of the founding members and the majority of the team must be under the age of 26 (born on or after January 1, 1993).

youth taking action on the SDG's | strictly for people under 26

The WSA Young Innovators call is eligible for projects that:
Are developed by young innovators under the age of 26
Offer digital solutions to any of the UN Sustainable Development Goals
Deliver content-rich digital solutions to the user including individuals, businesses, and organisations
have a strong digital component: websites, apps, SMS based solutions, IoT, wearables etc.
are market ready or already launched on the market – no ideas or concepts are eligible
For More Information:

Visit the Official Webpage of the World Summit Award (WSA) 2019