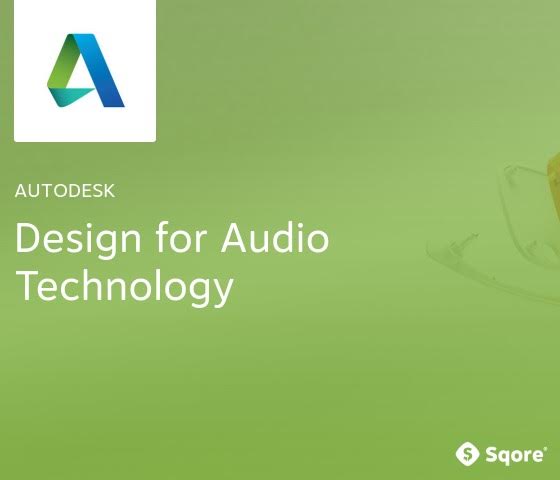 Application Deadline​: April 20, 2017
Study area/Programmes of focus: ​Graphic Design, Engineers
Target audience: ​13-17 18-24 years old
The Autodesk® Design for Audio Technology challenge helps to amplify your skills in support of your future career and an opportunity to share your designs with cutting-edge audio technology professionals.
Use Autodesk® Fusion 360™ to design Headphones, or Speakers, or Earbuds and you could win cash prizes, recognition, and virtual mentoring time with industry leaders from:
Bose

®, a global leader in sound systems, headphones, and home audio and video products

Sennheiser

®, a global leader in headphones, headsets, and microphones

Sonos

®, a global leader in smart networked sound systems and speakers

Turtle Beach

®, a global leader in gaming headsets and headphones with microphones

Real Industry™

, a global leader in behind-the-scenes education on skills and careers in the technology industry
Compete against top design and engineering students with your design entries, which will be judged by a panel of audio technology professionals from Bose, Sennheiser, Sonos, Turtle Beach, and Real Industry.
Simply create 3D models of your design concept for any of three product categories (you may submit designs of one, two or all three product categories):
Consider aesthetics, comfort, mobility, performance, and personalization. Each student can submit one design in any of the three product types for a maximum of 3 entries. Simply follow the guidelines. Learn more about participation and the Official Rules.
Prizes fpr 18-24 Years:
1st place award winner in each category (Headphones, Speakers, Earbuds), (18 – 24 year olds)
* 1:1 virtual mentoring with one of the following industry experts as described in the Official Rules:
* Judge 1 – Lee Zamir, Director New Business Development Lab and BOSEbuild, Bose Corporation
* Judge 2  – Sebastian Chafe, Manager of Strategic Innovation, Sennheiser
* Judge 3 – Ron Kuper, Software Development Leader in IoT, Media Tech, Cloud and CE, Sonos
* Judge 4 – Romi Kadri, Manager of Innovation Program, Sonos
* Judge 5 – Jay LeBoeuf, Lecturer at Stanford, Executive Director of Real Industry
* Judge 6 – Richard Kulavik, Chief Technology Officer, Turtle Beach (Judges Prize Winner 1:1)
* $1,000 USD
* Use of your design as an example part in Autodesk trade show and conference appearances
* Your design featured on the Autodesk Design Academy website
2nd place award winner in each category (Headphones, Speakers, Earbuds), (18 – 24 year olds)
* $750 cash
* Autodesk T-shirt
* Your design featured on the Autodesk Design Academy website
3rd place award winner in each category (Headphones, Speakers, Earbuds), (18 – 24 year olds)
* $500 cash
* Autodesk T-shirt
* Your design featured on the Autodesk Design Academy website
Prizes 13-17 Years
1st place award winner in each category (Headphones, Speakers, Earbuds), (13 – 17 year olds)
Use of your design as an example part in Autodesk trade show and conference appearances

Your design featured on the Autodesk Design Academy website
2nd place award winner in each category (Headphones, Speakers, Earbuds), (13 – 17 year olds)
Your design featured on the Autodesk Design Academy website
3rd place award winner in each category (Headphones, Speakers, Earbuds), (13 – 17 year olds)
Your design featured on the Autodesk Design Academy website
For More Information:
Visit the Official Webpage of the ​Autodesk Design for Audio Technology Challenge 2017