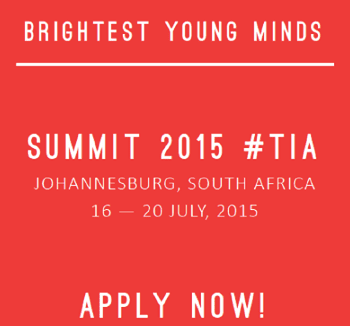 Application Deadline:  13 May 2015
When: July 16 – 20 2015

The 2015 Brightest Young Minds (BYM) summit will take place from July 16 until July 20 in Johannesburg, South Africa. This year's summit is especially important, as BYM is celebrating its 15th anniversary!
In order to commemorate this exciting milestone BYM will not only invite a new class of 100 delegates to the annual summit, but will also invite 50 of our most impactful alumni to attend the summit once again.
Theme

The 2015 summit theme will be #TIA (This is Africa). This hashtag is generally used to describe negative 'African' things like power outages, potholes, crime, etc — BYM will turn #TIA on it's head by focusing on African excellence and turning the continent's challenges into opportunities. 
Started by young people dissatisfied with the status quo nearly 15 years ago, BYM continues to create a ripple of change by supporting Africa's leaders of tomorrow.
Each year, BYM invites 100 of Africa's most innovative young leaders to a week-long summit where the delegates design solutions to relevant social, cultural or economic challenges. In addition to belonging to one of Africa's most driven networks, BYM alumni have access to mentorship programs, leadership training, forums and even project or business support.
The culmination of the summit is a team challenge, in which the delegates apply their new skills as they work in teams to design practical solutions to social challenges in the form of sustainable initiatives or businesses with a social impact. It is our aim that all viable solutions come to life by entering into an exclusive BYM incubation fund.
After the summit, delegates officially become part of the BYM network and have access to things like intra-network mentorship, leadership development, networking and further access to funding and business support.
Eligibility Requirement
Summit applications are open to 20-32 year olds that are African or living in an African country.
Selection is based on the applicant's demonstration of their commitment to action and social impact.
Even though the summit focuses on very practical up-skilling, BYM prides itself on selecting a rich diversity of delegates, including artists, engineers, scientists, consultants, public servants, civil leaders and more!
Cost
All summit costs, including lodging, food and transportation once at the summit are covered.
However, those invited to the summit will be asked to cover their travel to and from the 5-day event.
Apply Now to become a Delegate for the Brightest Young Minds (BYM) summit 
For More Information:
Visit the Official Webpage of the Brightest Young Minds (BYM) summit